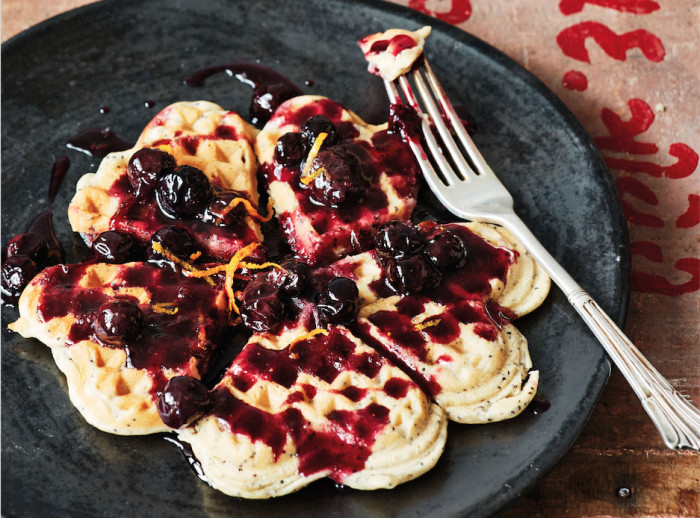 Vegan food is hot, healthy and beautiful to behold — just check out chef, author and blogger Kerstin Rodger's new cookbook. With simple, creative ways to pump up the produce and leave animal products behind, V Is for Vegan is your new favorite way to keep it plant-based.
I love poppy seeds. They are basically drugs — a mild form of opium. Remember that episode in Seinfeld where Elaine tests positive for heroin? Turns out she was eating too many poppy seed bagels. So it goes without saying that this is a feel-good recipe, perfect for a weekend breakfast. Trippy.
Ingredients
Vegan butter or coconut oil, for greasing
Waffles
1/4

cup

superfine sugar

1 1/2

teaspoons

baking powder

Heaping 1 3/4

cups

all-purpose flour

1

cup

hemp or rice milk

1/3

cup

coconut oil, melted

1

teaspoon

vanilla paste

2

tablespoons

poppy seeds
Blueberry sauce
1 1/8

cups

blueberries

1/4

cup

sugar

3

tablespoons

maple syrup, plus extra to serve

zest and juice of 1 orange
Materials
Directions
For the waffles
Heat up your waffle maker and grease with vegan butter or coconut oil.

Mix the waffle ingredients together in a bowl.

Put the blueberries, sugar, maple syrup, and orange zest and juice in a medium saucepan over medium-high heat, keeping back a little of the orange zest to serve. Stir until the blueberries start to break down but have not lost their shape entirely. Then take off the heat and set aside.

Ladle just enough of the waffle batter to fill the waffle maker sections, then spread it around. Close the lid and cook for 3 to 5 minutes, or according to the manufacturer's instructions. Transfer to a heatproof plate, cover with foil, and keep warm in the oven on its lowest setting.

Cook the remaining waffles in the same way until they are all done. Serve the waffles hot with the blueberry sauce, a little extra maple syrup, and the reserved orange zest.