Cook It Green: Cracked Wheat Pilaf With Spring Peas Recipe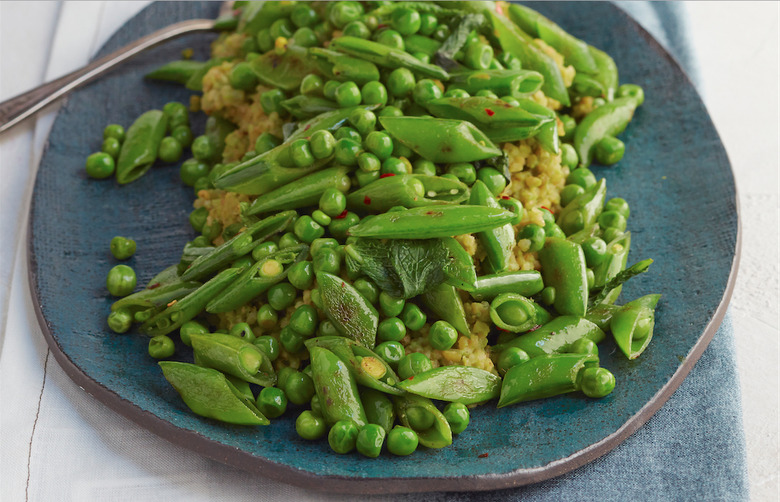 We may receive a commission on purchases made from links.
Renowned Indian-American chef Floyd Cardoz is a master inventor of delicious, vibrant dining experiences. With a restaurant (or two) always in the works, we're surprised he had time to pen his latest cookbook, Flavorwalla — "flavor seller" in Hindi. Need we say more? Buy the man's flavor book and whip up his simple, seasonal fare at home.
I came up with this dish one spring when I wanted to create a showcase for a lot of peas: a pressing issue, since they were pouring out of my garden faster than I could cook them. I also wanted to make sure that the sugar snaps were prepared in such a way that there was minimal risk of overcooking them, which I think is too often their unhappy fate. Peas are very nice paired with cracked wheat, an ingredient that I once thought of only in the context of breakfast. The nutty flavor and chewiness of the cracked wheat complements the sweet sugar snaps and English peas. Pureeing some of the peas and stirring the puree into the wheat underscores that fresh, green flavor that tells us spring is here.
This is substantial enough to be a main course for four people. Or serve it as a side with just about any lamb dish.
Cook It Green: Cracked Wheat Pilaf With Spring Peas Recipe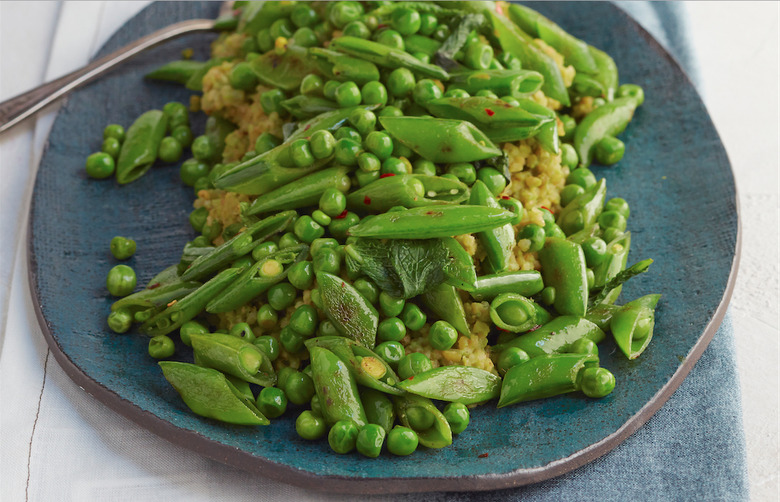 Ingredients
2 cups chicken stock (see below) or high-quality store-bought stock
2 teaspoons canola oil
1/2 teaspoon cumin seeds
2 whole cloves
1 1/4-inch piece cinnamon stick
1 bay leaf
1/2 small onion
1 tablespoon minced peeled fresh ginger
1 tablespoon minced serrano chilies
2 cups medium-fine cracked wheat
kosher salt
4 1/2 cups shelled fresh peas (about 4 1/2 pounds in the shell)
1 tablespoon salted butter
2 cups sugar snap peas (about 6 ounces)
1 cup loosely packed mint leaves
freshly ground black pepper
2 1/4 pounds chicken bones and parts
6 quarts water
3 cups chopped white onions
2 cups chopped celery
1 carrot
1 medium leek
1 garlic head
1/2 cup thickly sliced unpeeled fresh ginger
2 bay leaves
4 whole cloves
1 tablespoon black peppercorns
Directions
:::stock:::
Put the chicken bones and parts and water in a large stockpot and slowly bring to a boil, uncovered, over medium-high heat. Skim the froth from the surface. Put the onions, celery, carrot, leek, garlic, ginger, bay leaves, cloves, and peppercorns in the pot and return to a boil. Reduce the heat and simmer, uncovered, for 3 hours.
Strain the stock through a mesh strainer into a large bowl, pressing on the solids with the back of a spoon; discard the solids. Cool completely.
Store in an airtight container in the refrigerator for up to 2 days or in the freezer for up to 1 month.
:::pilaf:::
Gently heat the stock in a small saucepan. Keep warm.
Meanwhile, in a 4-quart saucepan, heat the oil over medium heat until shimmering. Add the cumin, cloves, cinnamon, and bay leaf and cook, stirring and shaking the pan, until fragrant, 2 to 3 minutes. Add the onion, ginger, and chilies and cook, stirring occasionally, until the onion is translucent, 2 to 3 minutes.
Stir in the cracked wheat and cook, stirring occasionally, until it is lightly colored and smells toasted, 5 to 6 minutes. Stir in the warm chicken stock and salt to taste and bring to a boil over high heat. Remove the pan from the heat, cover, and let the pilaf stand until all the liquid is absorbed, about 30 minutes.
Blanch, shock, and drain 2 cups of the peas; reserve. Set aside to cool completely.
Return the pan of water to a boil. Add the remaining peas and boil until they are very soft, 3 to 4 minutes. Drain thoroughly, transfer to a food processor, and process until pureed. Set aside.
When the pilaf is ready, remove and discard the cloves, cinnamon stick, and bay leaf. Stir in the reserved pea puree and gently warm over low heat.
Meanwhile, in a large sauté pan, combine the butter and sugar snap peas and sauté over medium-high heat, stirring often, until the snap peas are crisp-tender, about 5 minutes. Drain the blanched peas and add them to the pan, along with the mint and salt and pepper to taste. Cook until heated through.
To serve, spoon the pilaf into shallow bowls and spoon the peas and mint over the top. Serve hot.