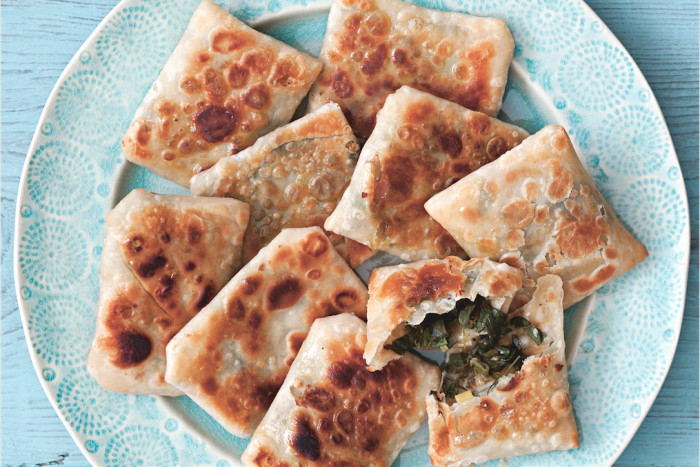 Writer and journalist Rebecca Seal travels where the food is excellent and sticks around long enough to tell the story right. A follow-up to her previous cookbook on the cuisine of Istanbul (written with her photographer husband, Steven Joyce), The Islands of Greece takes you on a boat to a great meal. These pies are packed with healthy greens and bright flavors. 
On Crete these are called marathopites, and they're similar to a pie I have eaten on Rhodes, called pougia (which may also be made with cheese or sweet fillings).
Feel free to play around with the flavorings here. Grated fennel is very traditional, and finely chopped wild garlic or herbs such as sorrel are wonderful additions. Or you could try a little feta. The pies are a classic example of the ingenuity of island cooks: The herbs and greens are often foraged from the islands' stunning mountainous interiors. Living in a city, I've used spinach instead.
Ingredients
Dough
2

tablespoons

olive oil, plus more for frying

1 2/3

cups

all-purpose flour, plus more for dusting

1/2

teaspoon

fine salt

2

tablespoons

ouzo, raki or other aniseed liquor (optional)
Filling
1

packed cup

spinach leaves, finely chopped

2

tablespoons

parsley leaves, finely chopped

3

scallions, finely chopped

1

tablespoon

dill, finely chopped

1

garlic clove, grated

Salt and freshly ground black pepper

1-2

tablespoons

lemon juice
Directions
For the dough
Mix the oil, flour, salt, ouzo (if using) and enough water (up to about 4 tablespoons, or 6 if you don't use the alcohol) to make a firm dough. Knead for five minutes until smooth, then wrap in plastic wrap and leave to rest at room temperature for 20 minutes.
For the pie
Mix together the filling and season with salt, pepper and lemon juice.

Roll out the pastry on a lightly floured surface until it is 2 mm (1/8 inch) thick. Using a knife, cut rectangles measuring roughly 8 × 6 cm (3¼ × 2½ in). Place a small spoonful of the filling into the centre of each rectangle, then fold the corners over the filling, like an envelope, to encase it. Wet your fingers and seal the edges firmly. Set aside while you make the rest.

Heat about 1 centimeter (½ inch) of olive oil in a wide pan and gently fry the parcels in batches for a couple of minutes on each side, taking care not to crowd the pan, until covered in golden brown speckles. Keep the cooked pies warm while you cook the rest, adding more oil as necessary, bringing it up to temperature before adding the next batch of pies. Eat straightaway, while warm.