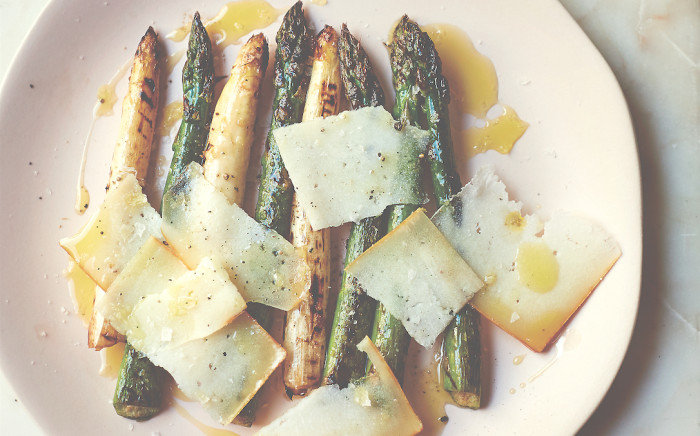 The Basque country of Northern Spain is one of the most celebrated culinary regions in the world. With deceptively simple, rustic dishes created from humble, high-quality produce and local ingredients like eggs, olive oil, salt cod, cheese and bread (to say nothing of the jamòn), this is one part of the world where you're guaranteed to eat well every meal of the day. How else could Basque country boast the most Michelin stars of anywhere in the world? Join London-based Basque chef José Pizarro on a journey through his native cuisine and get inspired!
I always feel inspired when I first see asparagus on the shelves, but nothing frustrates me more than seeing asparagus on the menu or on the shelves in winter. It doesn't make sense! I love to combine the best British produce with classic Spanish ingredients, and this cheese from Basque country complements the asparagus perfectly.
Ingredients
12

white asparagus

12

green asparagus

3

tablespoons

olive oil

Scant 1/2

cup

Idiazábal smoked cheese, sliced

extra-virgin olive oil

sea salt and freshly ground black pepper
Directions
For the asparagus
Blanch the white asparagus in a pan of boiling salted water for 3-4 minutes, then drain. Put both the white and green asparagus in a large dish with the oil and mix together well.

Heat a chargrill pan over a high heat. Turn the heat down to medium, place half of the asparagus on the pan and grill them for a couple of minutes, then turn over.

When the asparagus are ready, keep them in a warm place and cook the rest.

Divide the asparagus among four warmed plates and add the cheese, drizzling over some more olive oil and seasoning with sea salt and fresh black pepper.