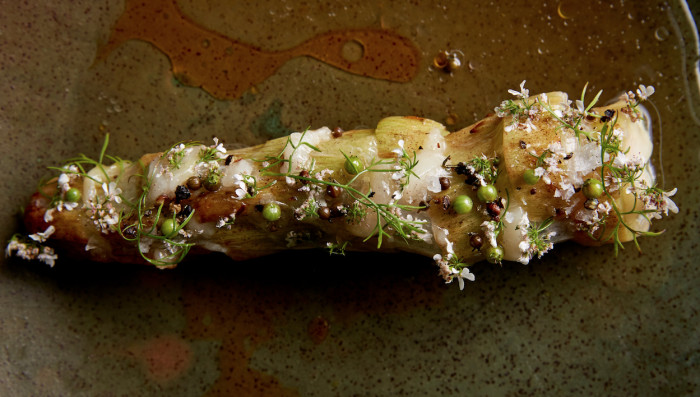 Pick up a copy of Scraps, Wilt & Weeds and you'll never look at vegetable tops, stalks, leaves and other sub-prime bits again. Following in the tradition of world-renowned Danish restaurant Noma, chef Mads Refslund and food writer Tama Matsuoka Wong take an intimate look inside the true potential of underutilized vegetable parts. Learn how to cook broccoli stems and make use of that whole cruciferous delight.
Most of us think of broccoli as a the flowerhead, but that makes up a mere fraction of the overall plant. A member of the cabbage family, the broccoli plant boasts huge fleshy leaves that rarely make it to the market shelves but are perfectly edible. And its central leader trunk, or the stem in botanic terms, is often dismissed as tough. But in reality, it is actually meaty, mild, and crunchy — not unlike winter asparagus. In fact, the stalk or stem of vegetables is so prized in Chinese cooking, that there is a vegetable (called wosun or celtuce) that is grown specifically for the thick stem.
Tester's Note: The coriander seeds are important in this dish. I also tried slicing up the broccoli stems first, which made them cook more quickly when I was short on time.
Ingredients
1/2

cup

unsalted butter

4

large broccoli stems, trimmed of their bases and woody skin

2

tablespoons

green coriander seeds, coriander flower bouquets and stems

2

large heads

"roasted ugly garlic"

3

ounces

thinly sliced lardo (or prosciutto, torn into 2-inch pieces), chilled

1

teaspoon

dried coriander seeds

1

teaspoon

chopped coriander leaves

freshly cracked black pepper

lemon juice, to taste
"Roasted Ugly Garlic" (makes 1 head)
1

head

garlic, ugly and a bit shriveled is fine

1

teaspoon

olive oil
Directions
For the garlic
Preheat the oven to 400°F.

Cut a small slice through the top of the garlic, so that the cloves are exposed. Place the garlic on top of a small sheet of aluminum foil and drizzle the top with the oil so that it seeps down between the cloves.

Wrap the garlic in the foil and roast for 45 minutes, until the center is easily pierced with a knife. Slather on crusty bread, crackers or roasts.
For the stems
Melt the butter in a medium saucepan over medium high heat. Add the broccoli stems and sear for 8 minutes, until lightly browned, basting continuously by spooning the melted butter over the stems. Add the fresh coriander seeds, bouquets, and stems and continue to baste for another 3 minutes. Slice each stem crosswise into ¼-inch-thick rounds.

Spread a generous amount of the roasted garlic on each broccoli coin, and drape with the lardo so that it melts slightly over the broccoli. Scatter with the dried coriander seeds, coriander leaves, cracked pepper, and a squirt of lemon.