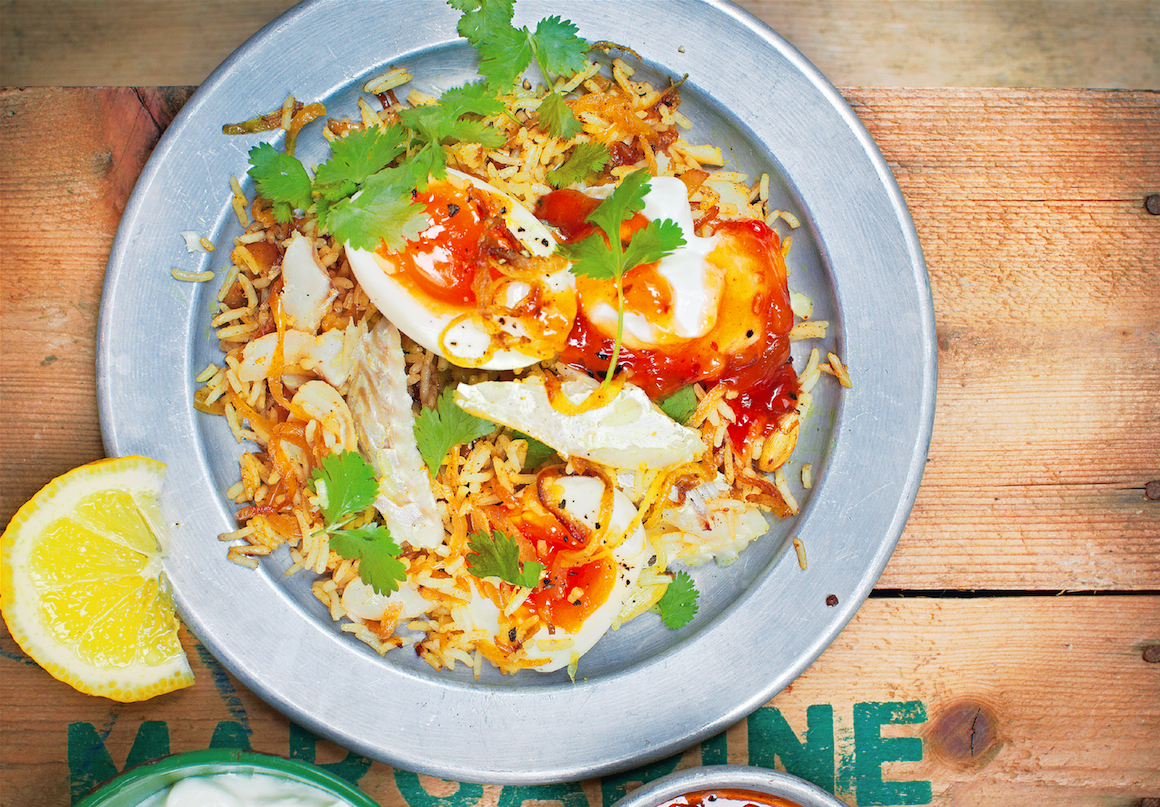 When in London, stop by Hampstead cafe Ginger & White for superb coffee, baked goods and fresh, simple food made with the best British ingredients. Their new cookbook is a must-read for fans of this new spin on classic cuisine. Kedgeree is a hearty fusion comfort food you'll make over and over again.
On weekends, we serve traditional British-Indian kedgeree for breakfast, but we also serve it for dinner because we just adore it. A good kedgeree has all of the components cooked to perfection and lightly combined so they don't break up too much. Ours is a buttery dish with fluffy grains of lightly spiced rice and plump pieces of smoky fish, finished off with eggs that are just runny in the center.
Ingredients
1

stick

butter

2

large

white onions, thinly sliced

4

free-range eggs

1

cup

basmati rice, washed several times until the water is clear

1

cup

cold water

2

bay leaves

1/2

teaspoon

salt

1

tablespoon

mild curry powder

5

cardamom pods, crushed

1

pound 5 ounces

un-dyed smoked haddock

1 1/4

cups

milk
To Serve
2

lemons, cut into wedges

cilantro leaves

freshly ground black pepper

mango chutney

plain yogurt
Directions
Melt 3 1/2 tablespoons of the butter in a saucepan over a low heat.
Add the onions, cover with a lid and cook for 10 minutes, until soft and translucent.
Meanwhile, simmer the eggs for 4 minutes, but allow them to sit in the hot water for 6 minutes.
Drain, then run cold water over them until cool.
Peel and halve, then set aside.
Place the rice in a saucepan with the water, bay leaves and salt. Bring to a boil, clamp on a lid and simmer on the lowest possible heat for 5 minutes.
Set aside, keeping the lid on. By the time you're ready to use it, the water will have been absorbed and the grains will be fluffy.
Add the spices to the onion and cook for 2 minutes, until they are golden brown.
Place the smoked haddock in a pan, skin-side down, and pour in the milk. Simmer very gently for 3-4 minutes, until the thickest part has lost its transparency.
Drain, remove the skin and bones, and flake into large chunks.
Heat the remaining butter in a large skillet and add the cooked rice and spiced onions.
Fold in the flaked haddock, being careful not to break it up too much.
Top with the halved boiled eggs. (The kedgeree can be served straight from the pan or arranged on individual plates.)
Serve with the lemon wedges, a scattering of cilantro leaves, and a good twist of black pepper.
Offer mango chutney and plain yogurt in separate bowls for people to help themselves.
Find more on British brunch on Food Republic: