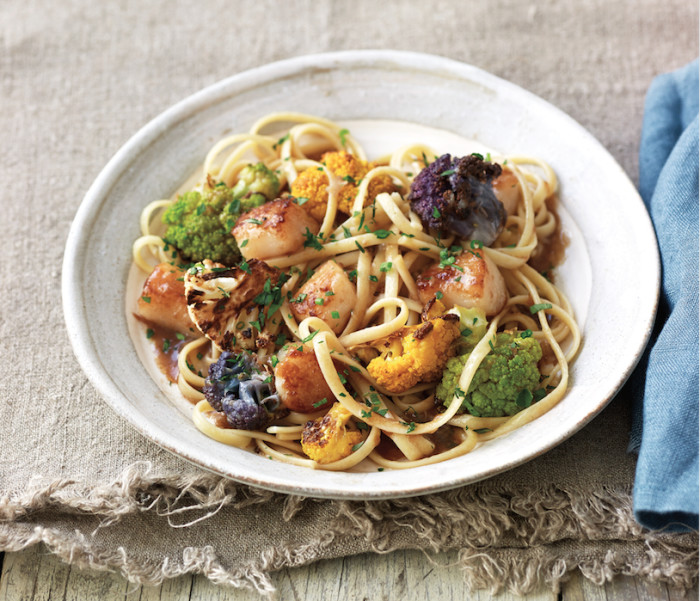 Food Network host Nikki Dinki has a new cookbook out that spotlights vegetables without leaving meat in the dust. Meat on the Side is a nod to the increasing popularity of the "flexitarian" diet, which typically uses meat as an accent to hearty, plant-based fare. Get into great habits with this new collection of vibrant recipes.

Instead of a bar, I'm a regular at my farmers' market. And in the fall, when I come across cauli­flower in a rainbow of colors, you know I'm adding it to my already ridiculously overstuffed bag. Because then I can make this simple and simply special pasta: Browned butter, fragrant garlic, bright lemon, and tender scallops, add some purple, orange, and green cauliflower and you just may have to take a picture before you dig in, it's that pretty. Luckily, the flavor of these cauli­flowers is the same as the white stuff, so even in the dead of winter, when no market sports the colorful types, you can still snuggle up with a bowl of this pasta while binge-watching Junk Food Flip and have the most perfect evening ever.
Ingredients
8

tablespoons

unsalted butter

1

medium yellow onion, finely chopped

1

pound

linguine

6

cups

different color cauliflower florets (from 2 small or 1 large head)

1

small head

purple cauliflower broken into small florets

3

garlic cloves, sliced

2 1/2

teaspoons

kosher salt

1/2

cup

white wine or chicken stock

1/4

cup

chopped mixed fresh herbs, such as parsley, thyme and oregano, plus more for garnish

finely grated zest and juice of 1 lemon

1

tablespoon

olive oil

1

pound

bay scallops
Directions
For the pasta
Place a large pot of salted water over high heat for cooking the linguine. Melt the butter in a large saucepan over medium heat and then cook it until browned, about 5 minutes. Stir in the onion and cook for 3 minutes.

When the water boils, add the linguine and cook according to the package directions until al dente. Drain, reserving 2 cups of the cooking water.

Meanwhile, add the cauliflower, garlic, and 2 teaspoons of the salt to the pan with the onion and cook until the garlic is fragrant and the cauliflower is tender, about 7 minutes. Add the wine and cook until it has been absorbed by the cauliflower, 3 to 4 minutes.

Add the linguine to the pan with the cauliflower and stir in the herbs, lemon zest, lemon juice, and enough of the reserved pasta cooking water to achieve a saucy consistency. Keep warm on low heat while you cook the scallops.

Heat the oil in a large skillet over high heat, add the scallops, sprinkle them with the remaining ½ tea­spoon salt, and cook for 1 minute. Flip and cook 30 seconds on the opposite side. Add the scallops to the pasta and toss to combine, adding more of the cooking water if needed. Serve garnished with extra herbs if desired.