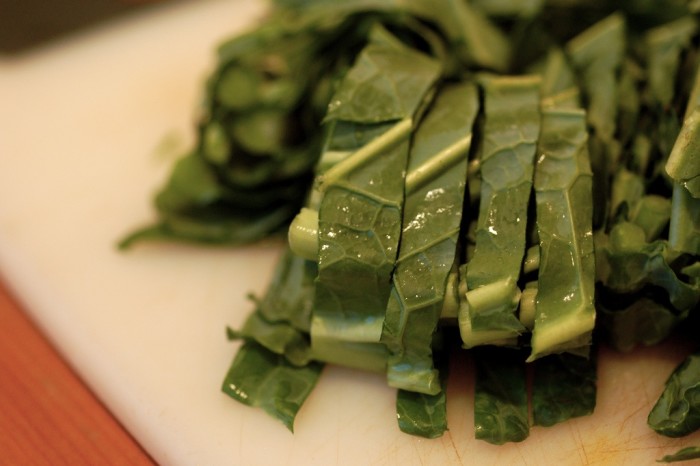 Here is a delicious way to get your greens. As seen on a recent episode of The Dr. Oz Show, pairing this side with Food Republic co-founder Chef Marcus Samuelsson's Healthy Mac and Cheese makes for a healthy take on a classic comfort meal.
Ingredients
6

bacon slices

1/2

cup

coconut milk

1/4

cup

soy sauce

1

tablespoon

grainy mustard

3

tablespoons

olive oil

1

tablespoon

unsalted butter

4

cloves

garlic, peeled and halved

4

cups (about 2 bunches)

collard greens, very thinly sliced

4

cups (about 2 heads)

bok choy, very thinly sliced
Directions
Cook the bacon in a large skillet until crisp. Drain on paper towels, and crumble into small pieces. Set aside.
In small saucepan, bring the coconut milk and soy sauce to a boil. Remove from the heat and stir in the mustard and crumbled bacon. Set aside.
Heat the olive oil and butter in a large straight-sided pan over low heat. Add the garlic, and slowly toast until pale golden brown, about 10 minutes (be careful not to let it burn). Lift the garlic out of the oil with a slotted spoon and set aside.
Add the collard greens and cook, stirring frequently, until the greens start to wilt. Stir in the coconut milk mixture and cook for about 20 minutes, until the greens are tender and the sauce has thickened.