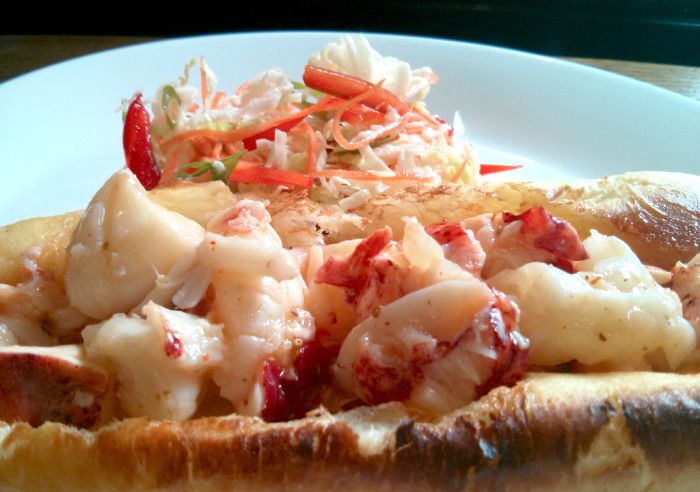 Happy Lobster Roll Week! To celebrate this sweet, briny jewel of the summer sandwich menu, we're running five straight days of recipes, interviews, chefs' expert tips and pairings. If you thought you were craving a buttery bun stuffed with fresh lobster meat before this official celebration, it's about to get critical. Pick up a lobster or four and churn out one of the most important dishes of the summer. This one needs a couple of secret ingredients.
Chef Daniel Eardley of Cole's Greenwich Village slings up The Seadawg ($26), a Maine-style lobster roll. The lobster meat is tossed with mayo, diced celery and onions and piled onto a warm, buttered roll. The sandwich is then topped with savoy cabbage slaw for a crunchy bite. What sets it apart is the use of fennel and dill pollen, herbal, earthy spices that bring an entirely new flavor profile to one of the greatest sandwiches in the history of mankind.
Ingredients
1

(1 1/2-pound)

lobster

1/2

pound

butter

1/4

cup

water

1

teaspoon

sea salt

1

teaspoon

fennel pollen

1

teaspoon

dill pollen

1

teaspoon

Old Bay Seasoning

1/2

teaspoon

saffron threads

white pepper
Directions
For preparation:
Plunge the lobster into one gallon of boiling water and cover.
Set timer for seven minutes and prepare an ice bath.
Once the seven minutes have elapsed, pull out the lobster and plunge into the ice water. Let the lobster cool for 20 minutes while preparing the rest of the roll ingredients.
In a non-reactive saucepan, add the 1/4 cup water and sea salt. Place over medium heat. Cut the butter into small chunks and swirl it into the pot with the water until it melts.
Add the spices and chopped up lobster meat. Turn off the heat and reserve for assembly.
For assembly:
Hollow out the lobster roll and toast for one minute.
Spoon in the lobster meat into the bun, draining the butter as you go. Fill to the top of the bun.
Top with chopped parsley and serve with potato chips and Cole's slaw.
More lobster roll recipes on Food Republic: