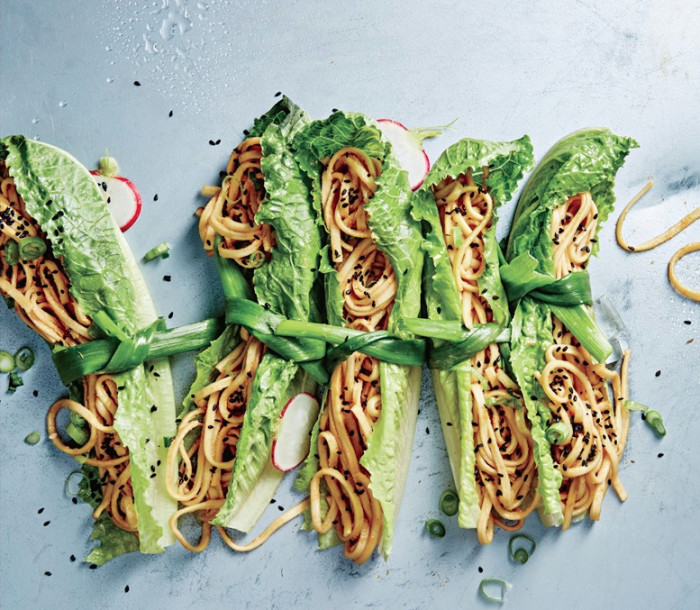 Isa Chandra Moskowitz is a pioneer of delicious plant-based cuisine, with a ton of cookbooks under her belt. Her recent release has a signature fantastic name: The Superfun Times Vegan Holiday Cookbook. Everything is as colorful and attractive as it is delicious and hearty. Try your hand at these tantalizing vegan sesame noodle bundles, one of our favorite dishes from the book.

All the greatness of cold sesame noodles without the inconvenience of needing a plate and utensils! These flavorful little bundles come tied up in a scallion.

It can't get any cuter or more delicious. Perfect for picking up and shoving into your face or, if you prefer, you can serve it on a plate like a princess. Long noodles mean long life, so don't go breaking your noodles before boiling them. Use the longest noodles you can find in the biggest pot of boiling water. You can make these a few hours ahead and keep them on a serving tray covered in plastic wrap until ready to serve.

Tip: Udon noodles are increasingly easy to find in any old supermarket, but if you can't find them or just plain don't feel like using them, you can substitute linguine in this recipe

Reprinted with permission from The Superfun Times Vegan Holiday Cookbook
Ingredients
12

ounces

dry udon noodles

1

garlic clove, peeled

1

tablespoon

chopped fresh ginger

1/2

cup

toasted sesame oil

1/2

cup

rice vinegar

1/2

cup

tamari or soy sauce

1/4

cup

warm water

2

teaspoons

Sriracha

1

cup

creamy natural peanut butter

1/4

cup

brown sugar

16

large romaine leaves

black sesame seeds

16

whole scallions
Directions
For the bundles
First, bring a large pot of salted water to a boil. Cook the udon noodles according to the package directions.

While that's going on, prepare the dressing. Put the garlic and ginger in a blender and pulse to chop them up a bit. Add the sesame oil, rice vinegar, tamari, warm water, Sriracha, peanut butter, and brown sugar and puree until it's completely smooth. Add a little extra warm water if needed to thin.

When the noodles are ready, drain them and run them under cold water to cool them completely. When the noodles are cool, transfer them to a large mixing bowl and toss them with the dressing to coat.

To assemble each bundle, place a bunch of noodles down the center of a romaine leaf, leaving a little bit of space at the top and bottom. Sprinkle with black sesame seeds. Tie each leaf crosswise with a whole scallion to form a bundle. Serve!