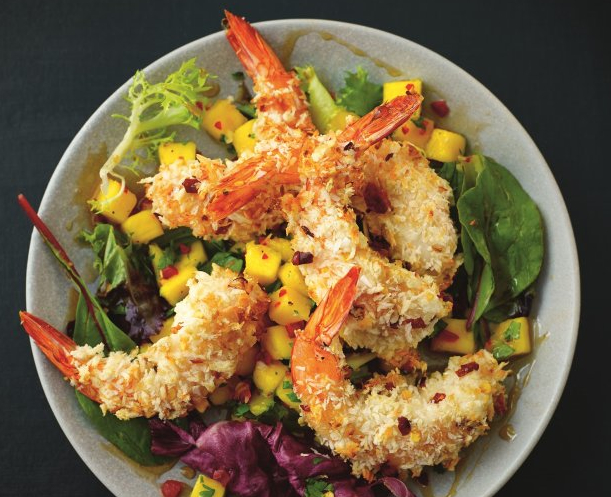 We're working our way through British chef and baking empress Lorraine Pascale's new book, A Lighter Way To Bake. Coconut shrimp salad is the perfect appetizer for waiting guests.
It may seem a bit odd to bake something as small as the humble curled-up shrimp, but when frying them I found that the shrimp became too rich due to the oil that they soaked up in the pan. If you, like my dear brother, are not a fan of coconut, then forgo our exotic speckled "fruit" and just use the bread crumbs instead. "But surely, Ms. Pascale, the shrimp would be even healthier if they did not have any bread crumbs on at all?" "Why yes," I would reply. "Of course, but breaded and baked is much better than breaded and fried." I have served these before as canapés to hand around as my mates arrive. It's hard to get the shrimp with the tails still on, but if you can, they look great on the plate as they are passed around to waiting guests!
Ingredients
Shrimp
2

egg whites

2

tablespoons

dried bread crumbs

2

tablespoons

desiccated coconut

1/4

teaspoon

dried chili flakes

Salt and freshly ground black pepper

20

(about 14 ounces)

raw jumbo shrimp, peeled, with the tails left on if you like
Dressing
2

tablespoons

honey

2

tablespoons

balsamic vinegar

Salt and freshly ground black pepper
Salsa
9

ounces prepared mango chunks

or 2 medium mangoes, cut into 1/4-inch cubes

2

red chilies, seeds removed if you want less heat, finely chopped

juice of 2 limes

leaves from a large handful of cilantro, roughly chopped

Salt and freshly ground black pepper
To Serve
7

ounce bag

prepared lettuce

Salt and freshly ground black pepper
Directions
Preheat the oven to 400°F.
Line a baking sheet with baking parchment and set aside.
Lightly beat the egg whites in a wide, shallow bowl to break them up.
Toss the bread crumbs, coconut, chili flakes and a little salt and pepper together in another similar-sized bowl.
Working in batches, toss a few of the shrimp into the egg whites, making sure they are well coated.
Use a slotted spoon to lift them out, allowing the excess egg white to fall back into the bowl.
Then put the prawns into the coconut crumbs, toss them about and using another slotted spoon (or you can just pick them up with your hands), transfer them onto the baking sheet in a single layer.
Repeat until all are coated and then bake in the oven for 8–10 minutes.
Meanwhile, make the dressing. Simply whisk the honey and vinegar together in a small bowl, season to taste and set aside.
To make the salsa, toss the mango, chili, lime juice, cilantro and a little salt and pepper together and set aside also.
Once cooked, the shrimp should have turned from bluish green to pink, be cooked through and the coconut crumbs crisp and lightly golden. Remove them from the oven and you are ready to serve.
Divide the salad leaves among four serving bowls.
Spoon the salsa over, arrange five shrimp on top of each, finish with a drizzle of the dressing and serve.
Find more shrimp appetizers on Food Republic: