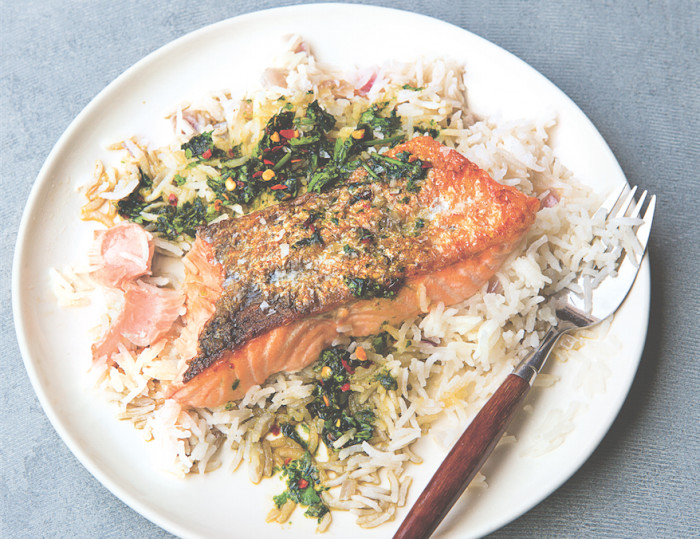 Two ingredients are all you'll need to buy to cook your way though this new collection of pantry-heavy recipes from British writers and recipe developers Rosie Reynolds and Eve O'Sullivan. Keep your larder stocked, as any good home cook should, and get inspired to whip up a feast!
Creamy and satisfying, the rice, crisp-skinned salmon and fragrant cilantro (coriander) sauce are smart enough for guests, but easy enough to whip up after work. You can steam the salmon on top of the rice for a simple one-pot dish for extra ease.
Tip: You can replace salmon with any firm white fish, or try serving with some fried cubes of tofu for a vegan feast.
Ingredients
1

tablespoon

olive oil

1

onion, diced

1

clove

garlic, finely chopped

1 1/2

cups

white basmati rice, washed

1

14-ounce can

coconut milk

1/2

teaspoon

superfine (caster) sugar

4

fillets

salmon, skin still on

Salt and freshly ground black pepper
Cilantro Sauce
1 1/2

tablespoons

superfine (caster) sugar

1/2

teaspoon

salt

1/2

teaspoon

chili flakes, plus extra to serve

1

large bunch

cilantro, coarsely chopped
Directions
For the rice
Heat the oil in a large lidded pan, add the onions and cook over medium heat for 10 minutes, or until softened. Add the garlic and cook for 1-2 minutes, until fragrant, then tip in the rice and stir to coat in the oil. Add the coconut milk, then half-fill the empty coconut can with water and pour into the pan. Add a generous pinch of salt and the sugar, bring to a boil, then reduce the heat to a simmer. Cook for 10 minutes, or until the rice is just tender and the liquid has been absorbed.

Season the salmon fillets with salt and pepper. Heat a large nonstick skillet (frying pan) over medium-high heat, place the fillet in the skillet skin-side down, and cook for 3 minutes, or until the skin is golden and crisp. Flip the fillets over and cook for another 2 minutes. Remove from the skillet and keep warm. Alternatively, you can place the salmon fillet on top of the rice, cover with the lid, and cook for 10 minutes until the salmon and rice are just cooked.

To make the cilantro (coriander) sauce, pour scant ½ cup water into a small pan, add the sugar, salt, and chili flakes, and bring to a boil. Simmer for 3-5 minutes, or until slightly reduced and syrupy. Remove from the heat.

Put cilantro into a food processor and pulse to chop. Gradually pour in the syrup and continue to pulse until the cilantro is finely chopped and the sauce is combined. Check the seasoning; it should be slightly sweet with a hint of chili.

To serve, divide the rice and fish among four plates, then drizzle generously with the sauce and sprinkle with extra chili flakes, if you like.