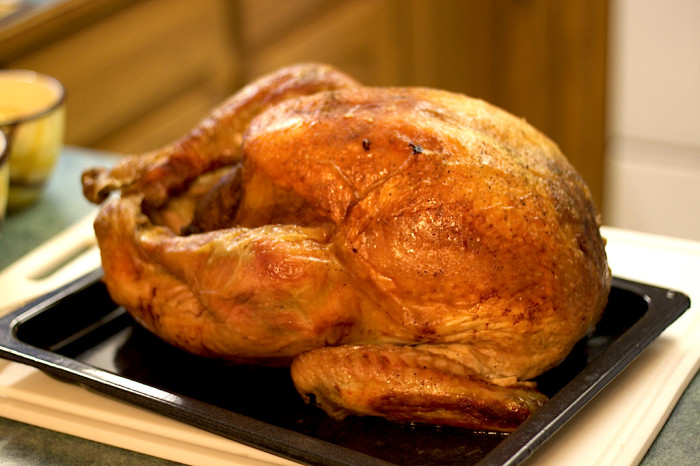 This year, we're trying something new for our Thanksgiving turkey. I'm making a marinade of coconut milk, buttermilk and pomegranate juice. I think this will ensure a really moist holiday bird.
Start this the day before by brining the turkey in a saltwater mixture. Then on the day of, transfer the turkey to a flavorful marinade that will seal moisture in. With 2 1/2 hours of roasting, you'll have plenty of time left to get your other dishes done in time.
Ingredients
1

whole

turkey, about 12 pounds

1

lemon, juiced

1 ½

cups

kosher salt

1

gallon

cold water

2

cups

buttermilk

2

cups

coconut milk

1

cup

pomegranate juice

2

tablespoons

butter, melted

2

tablespoons

thyme leaves

2

cloves

garlic, minced
Directions
In a large pot combine the salt, lemon juice and cold water. Submerge the turkey and let soak overnight.
Remove the turkey from the brine, and discard the brine. In a large pot, combine the buttermilk, coconut milk, pomegranate juice.
Rub the marinade onto the skin of the turkey and marinate the turkey for at least 4 hours, covered in the refrigerator. Turn the turkey in the marinade every hour.
20 minutes before you plan to roast the turkey, preheat the oven to 350 degrees F. Remove the turkey from the marinade and pat the skin dry. Discard the marinade.
Mix the butter, thyme and garlic. Using your hands, rub it under the skin, taking care not to pierce or break the skin. This will help seal in moisture.
Place the turkey breast side up on a roasting rack in a roasting pan and cover with foil. Roast the turkey in the oven for 1 ½ hours, basting every ½ hour with the juices from the turkey.
Increase the oven temperature to 450 degrees F. Baste every ½ hour with the juices from the turkey.
Roast until an instant-read thermometer inserted into the thickest part of the breast reads 160 degrees F and the juices run clear, about 1 1/2 hours.
During the last 20 minutes of cooking remove the foil to brown the skin. Let the turkey rest for at least 20 minutes before carving.