Super Sweets: Salted Caramel Coconut Flour Brownies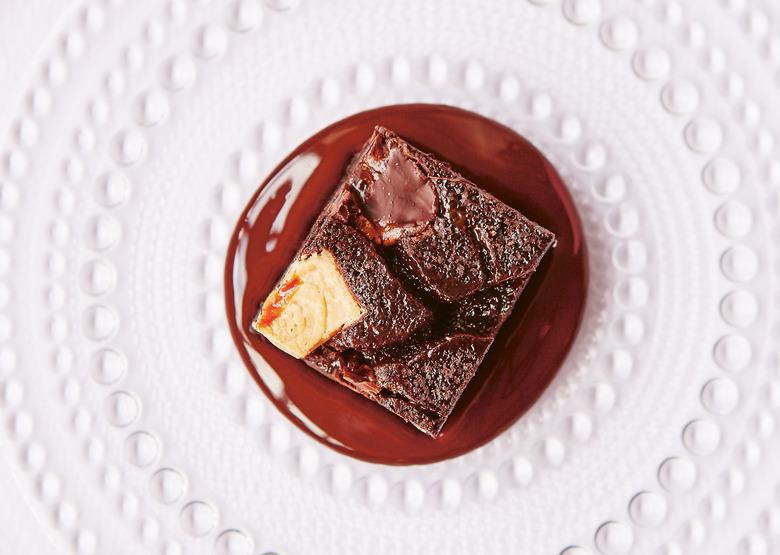 We may receive a commission on purchases made from links.
Salted Caramel Dreams is one of the most beautiful book titles we've encountered, and the recipes within are as ...salted caramel-y as you're imagining (but better!) Stock way up on butter, sugar and cream and prepare to dive into a world of slightly salty sweets. These coconut flour brownies are a sumptuous end to a special meal. 
These were the brownies that made me fall in love with brownies. Before I came up with this recipe, I hated them. I know, right – weird. I'm a changed woman and this recipe will always remain close to my heart. These are light but still deliciously fudgy. Magically, they are also gluten-free!
Super Sweets: Salted Caramel Coconut Flour Brownies
Stock way up on butter, sugar and cream and dive into Salted Caramel Dreams, a dessert cookbook devoted to the good stuff, like coconut flour brownies.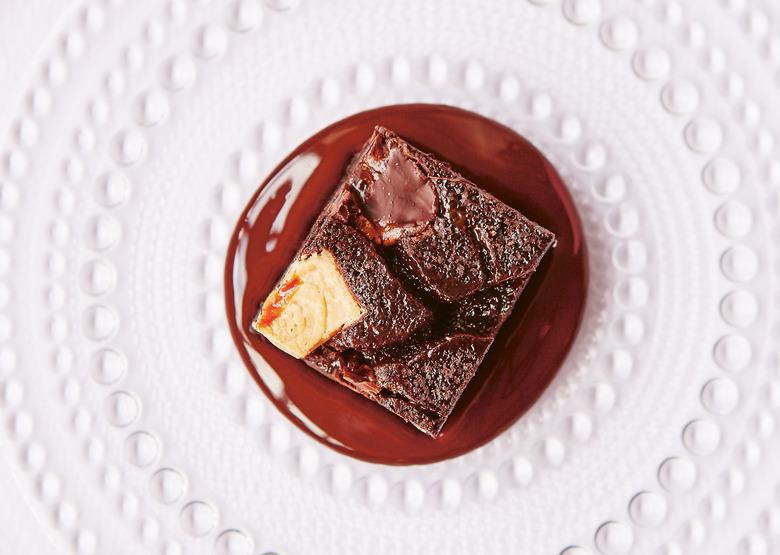 Ingredients
Scant 2/3 cup cold salted butter
Generous 1 cup caster (superfine) sugar
Generous 1/2 cup cocoa powder
3 large free-range eggs
Generous 1/4 cup coconut flour
1 teaspoon good flaky sea salt
5 ounces Classic Salted Caramel Sauce
1/3 cup good dark chocolate chips or chopped chocolate
Scant 1 cup double cream
3/4 teaspoon sea salt
1 cup caster (superfine) sugar
3 tablespoons glucose syrup
4 tablespoons water
Generous 1/4 cup salted butter
Directions
:::sauce:::
In a small saucepan, warm the cream and salt over a low heat until hot but not boiling, stirring often to avoid scorching. Alternatively, warm in the microwave in a suitable jug. Cover to keep warm while you make the caramel.
Following the instructions below, make a dark wet caramel with the sugar, glucose syrup and water.
Once the caramel is ready, remove from the heat and, being very careful, gradually add the warmed cream and salt. It will bubble and spit ferociously. Do not stir until the bubbles have died down.
Add the butter and stir well. If you have lumps of caramel, return to a low heat and stir until the lumps have dissolved. If not using immediately, pour the sauce, or any of the variations below, into sterilised jars while still hot. The sauce will keep in the fridge for up to 2 months.
:::brownies:::
Preheat the oven to 350ºF. Grease and line an 8-inch square brownie pan or silicone mold.
Melt the butter in a medium saucepan over a gentle heat. Once only a small lump of unmelted butter remains, remove the pan from the heat and swirl the pan until all of the butter has melted. Doing it this way stops the butter from getting too hot.
Vigorously beat the sugar and cocoa into the melted butter. Don't panic if the mixture looks grainy. The mixture should be warm to the touch but not hot. If you can't comfortably hold your finger in the mix for more than 5 seconds, leave it to cool until you can.
Add the eggs all at once and beat until fully incorporated and you have a smooth and glossy mixture. Sift the coconut flour into the batter. Beat in well, checking for pockets of flour and breaking them up. Stir in the sea salt.
Pour the mixture into the prepared pan, wiggle the pan to smooth the top and tap on the work surface a few times to get rid of air pockets. Drizzle over the warmed caramel sauce and scatter over the chocolate chips. Bake for 20–25 minutes or until just a small jiggle remains in the middle.
Cool the brownies in the pan on a wire rack. Once cooled to room temperature, place in the fridge. Chill for at least 1 hour before cutting so that you get neat slices. Brownies are best stored in the fridge for up to 1 week.