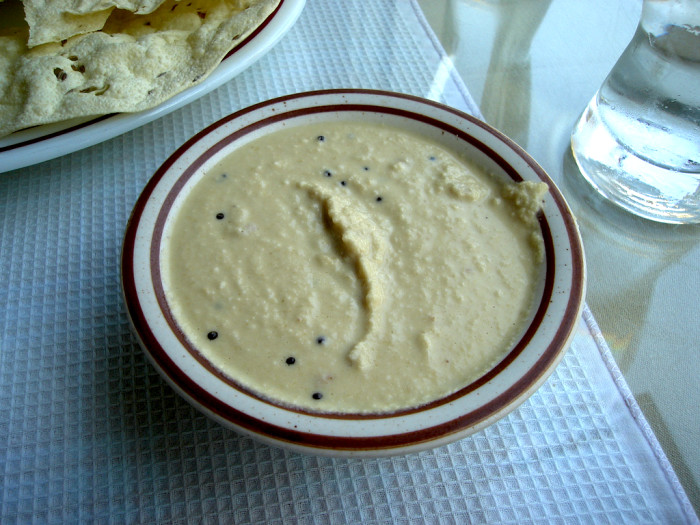 Having waxed poetic on the virtues of South India's cuisine, masala dosas in particular, it seems only logical to address its condiments as well. Coconut chutney, one-half of the epic duo of sambar and chutney that accompany nearly all South Indian specialties, is pretty simple to make. You just have to freshly grate the coconut, which can be done by hand or using the grater plate on your food processor (recommended).
Odd as it may sound, try this on a turkey sandwich with some cilantro and watch the sparks fly.
Ingredients
1/2

large coconut, finely grated

1/2

cup

plain yogurt

1

tablespoon

vegetable oil

2

small

red chilis, finely chopped

1/2

teaspoon

black mustard seeds
Directions
Combine the coconut and yogurt in a blender or food processor until it's the consistency of a slightly chunky paste. Set aside in a medium bowl.
Heat the oil until shimmering in a small pan, then add the mustard seeds.
When they begin to pop, allow to cool completely, then add oil and seeds to the coconut mixture.
Mix well, cover and refrigerate until needed. Will keep for up to 5 days.