Clove-Studded Roasted Pineapple Recipe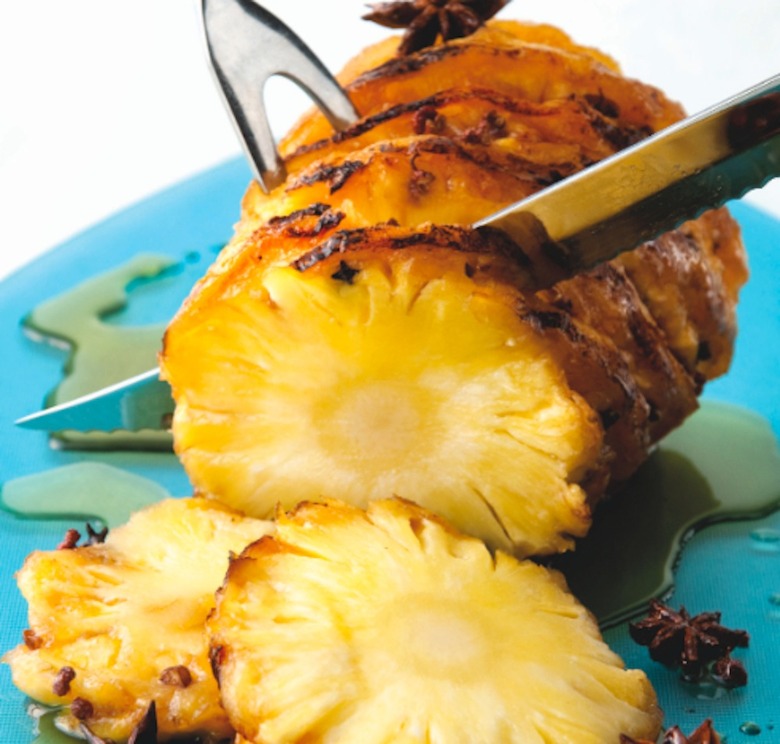 Photo: Martin Brigdale
I adore this sensual dessert: the spices add an extra dimension to the juicy pineapple flavors. It is particularly good served with a scoop of thyme-scented fromage frais sorbet.
Clove-Studded Roasted Pineapple Recipe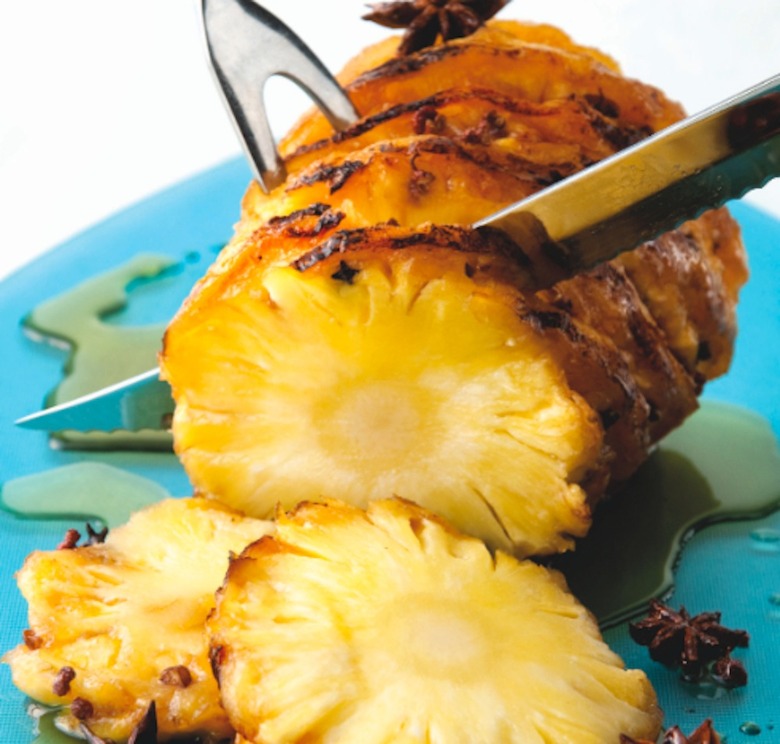 Ingredients
1 ripe pineapple
16 cloves
1/4 cup grapeseed or peanut oil
2 cups light brown sugar
1/2 cup superfine sugar
16 dried Szechuan peppercorns
3/4 teaspoon quatre épices
6 star anise
Directions
For the syrup, put 4 cups water into a pan and add all the ingredients. Slowly bring to a boil over gentle heat, stirring occasionally.
Simmer over medium heat to reduce by three-quarters, to make a thick syrup. Set aside.
Preheat the oven to 350°F. Using a serrated knife, cut a 1 1/4-inch slice from the top, removing the leafy fronds, and a 3/4-inch slice from the base of the pineapple to enable it to stand upright.
Now working from top to bottom and following the curve of the fruit, remove the peel. To remove the little black "eyes," and create an attractive finish at the same time, cut a spiral groove, 1/4 inch deep, around the entire fruit. Stud the flesh evenly all over with the cloves.
Heat the oil in an oval pan (or one that will take the whole fruit) until very hot, then add the pineapple and lightly color all over.
Transfer the pineapple to a medium-small roasting dish, standing it upright. Baste the pineapple with the reduced syrup and roast in the oven for 35 to 40 minutes, depending on the ripeness of the fruit, basting it every 5 minutes or so with the syrup, and keeping it upright.
Let the roasted pineapple stand for 10 to 15 minutes before serving, basting from time to time with the syrup.
To serve, lie the pineapple on its side and cut into slices, about 1/2 inch thick. Arrange in a serving dish, retaining the star anise for decoration, and serve just warm.