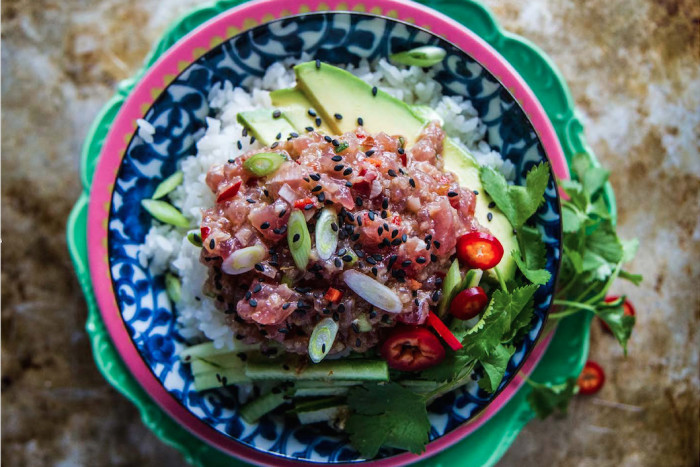 Here's the silver lining to allergy-friendly food: It's really easy to prepare and enjoy! Invite everyone (yes, everyone) to the table when you're cooking with chef-blogger Heather Christo's new cookbook, Pure Delicious. If it's an allergen to anyone, it's off the table (but you'd never know it!).

For those with allergies, Japanese cuisine is one of the easiest and most reliable to dine out on. But one can't go out every night! So I was thinking about how to bring sushi into the home kitchen. Fortunately, my favorite combo, spicy tuna, cucumber, and avocado, works really well as a sushi bowl. If you are nervous about "raw" fish, don't be. The marinade partially cooks it, and as long as you get some good-quality fresh fish, you have nothing to worry about. The fish, crunchy cucumber, cilantro, and avocado all make for a perfect bite.
Ingredients
Rice
1

teaspoon

kosher salt

1 1/2

cups

short-grain white rice

1

tablespoon

rice vinegar
Spicy tuna
8

ounces

sashimi-grade raw tuna

1

teaspoon

sambal oelek

1 1/2

teaspoons

minced fresh ginger

1

tablespoon

minced red Fresno chili

1

tablespoon

minced green onion

1

tablespoon

sesame oil

2

tablespoons

coconut amino acids

2

tablespoons

rice vinegar
Garnish
1/2

avocado, pitted, peeled and sliced

1/3

cup

thinly sliced seedless cucumber

Fresh cilantro and sesame seeds, for garnish
Directions
For the bowl
Make the rice: Pour 1¾ cups cold water into a small pot. Add the salt and rice and bring to a boil. Boil for 1 minute and then cover the pot tightly and reduce the heat to low. Cook for 15 to 17 minutes, until all the liquid has been absorbed. Turn off the heat, add the vinegar, and fluff the rice with a fork, then cover the rice and steam for 3 minutes. Set aside.

On a cutting board, cut the tuna into small dice. Use a large sharp knife or cleaver to mince the tuna.

In a medium bowl, combine the sambal, ginger, chili, green onion, sesame oil, amino acids, and vinegar. Reserve 1 tablespoon of the sauce. Add the tuna to the remaining sauce and gently combine. Set aside to marinate for up to 15 minutes.

Divide the rice between two bowls. Top each bowl of rice with half the avocado slices. Gently combine the cucumbers with the reserved 1 tablespoon sauce and add those to each bowl.

Top each of the bowls with the spicy tuna. Serve immediately garnished with cilantro and sesame seeds.