Classic Turtle Soup Recipe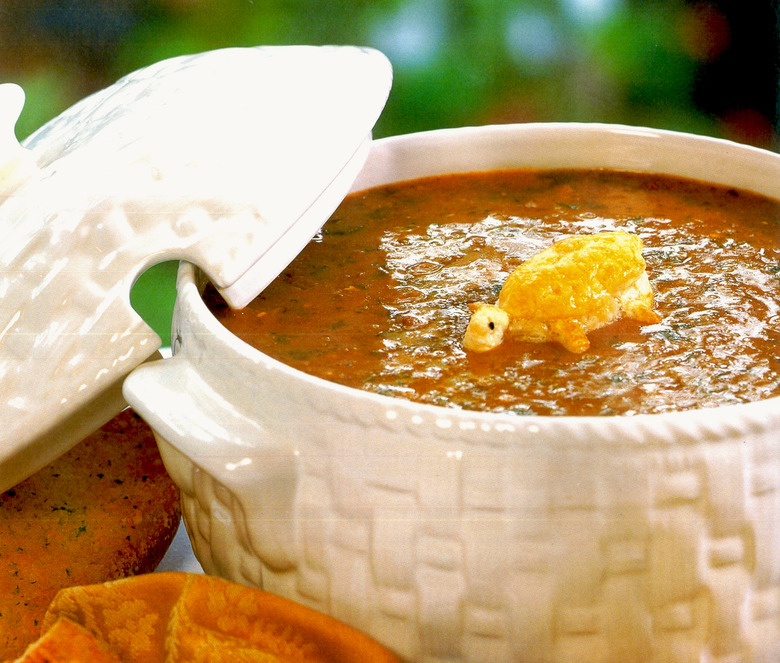 Danny Trace is Executive Chef at Brennan's (same good folks as New Orleans legend Commander's Palace) and says it's turtle soup season! A few words of encouragement...
Turtle soup has been served here at Brennan's since it opened 43 years ago. It's by far the most popular dish. You always get praise for certain dishes but turtle soup is something very memorable to our guests — it's actually what a lot of them come here for. I've seen people just get soup and a baguette, sit at the bar and enjoy. The soup itself has a richness and a flavor that's unlike anything else. It's more of an elegant stew with eggs and spinach and a refined flavor that you won't find in a lot of other soups. We've put it out for parties of 150 or more.
Alligator and turtle kind of have the same texture — you have to cook it. We grind it coarsely, then it has to be stewed for a couple of hours. Turtle soup is a process. We've done different things — turtle pies, turtle empanadas, turtle chili — but nothing's as popular as turtle soup, and that's not going to change.
Chef's note: I imagine it'll be harder to find the further north you get, but we use freshwater farm-raised turtle from Louisiana Foods.
Classic Turtle Soup Recipe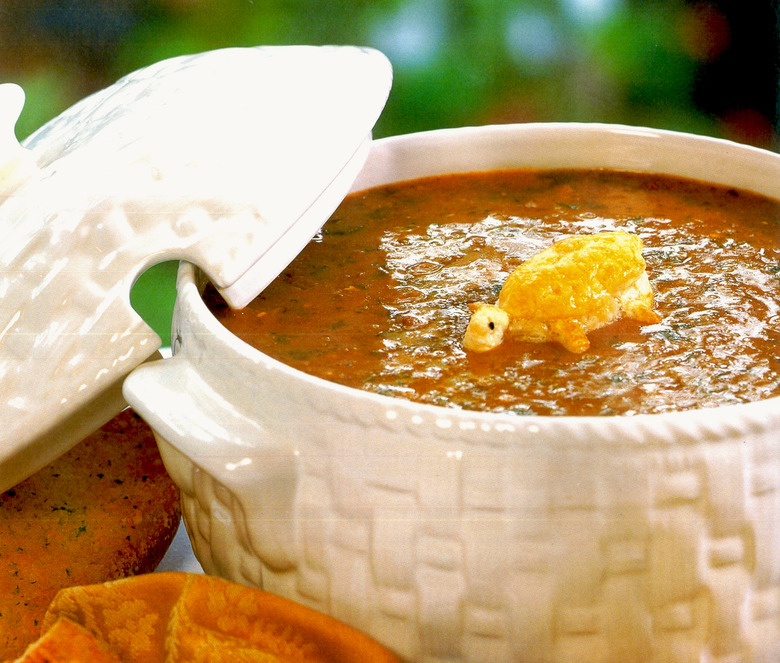 Ingredients
1 1/2 pounds fresh turtle meat
2 tablespoons vegetable oil
1 1/2 tablespoons Creole Seafood Seasoning
1 1/2 tablespoons Creole Meat Seasoning
1 cup finely chopped onion
1 cup finely chopped green bell pepper
1/2 cup finely chopped celery
1 tablespoon minced garlic
1/2 teaspoon crushed dry thyme
2 bay leaves
8 cups veal stock (or substitute canned no-salt beef broth)
3/4 cup tomato puree
1/2 cup vegetable oil
1/2 cup all-purpose flour
1 cup dry sherry
2 tablespoons Louisiana hot pepper sauce
2 tablespoons worcestershire sauce
juice of one lemon
5 ounces fresh spinach
2 hard-cooked eggs
dry sherry
Directions
Heat 2 tablespoons oil in a large stockpot over medium-high heat. Brown turtle meat along with seafood and meat seasonings; cook about 20 minutes, or until liquid is almost evaporated.
Add onion, bell pepper, celery and garlic while stirring constantly. Add thyme and bay leaves; reduce heat to medium and sauté (stirring frequently) 20 to 25 minutes, or until vegetables are tender and start to caramelize.
Add stock and tomato puree; bring to a boil. Reduce heat and simmer uncovered 30 minutes, periodically skimming away any fat that rises to the top.
While stock is simmering, make roux. Heat 1/2 cup oil over medium heat in a small saucepan. Add flour, a little at a time, stirring constantly with a wooden spoon – being careful not to burn the roux.
After flour is added, cook about 3 minutes, until roux smells nutty, is pale in color and the consistency of wet sand.
Using a whisk, vigorously stir roux into soup, a little at a time to prevent lumping. Simmer uncovered about 25 minutes, stirring occasionally to prevent sticking on the bottom.
Add sherry and bring to a boil. Add hot sauce and Worcestershire; reduce heat and simmer 30 minutes or until starchy flavor is gone, skimming any fat or foam that rises to the top.
Add lemon juice; return to a simmer 15 to 20 minutes.
Add spinach and chopped egg; bring to a simmer and adjust seasoning with seafood seasoning or salt. Remove bay leaves before ladling into bowls.
When we serve the soup at the restaurant, we add a teaspoon-splash of sherry on top.
Tomato-Orange Soup With Grilled Cheese Croutons Recipe
Mexican Meatball Soup Recipe
Cauliflower And Arugula Soup Recipe