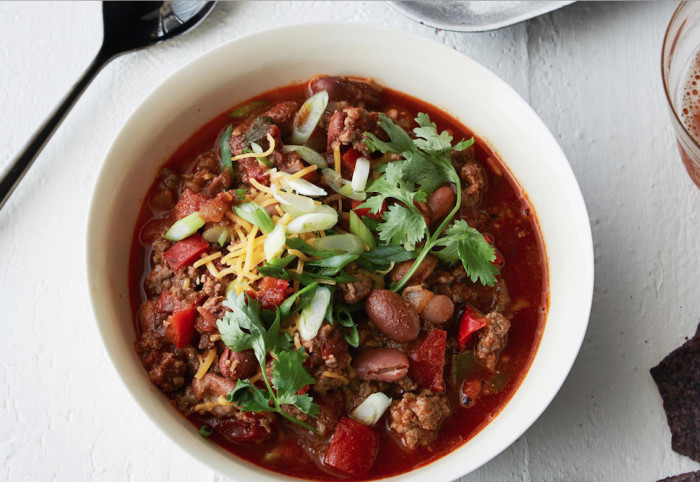 Leave it to a master of sustainability and style to author a vegetarian cookbook so chic we're hiding our bacon. Danny Seo's new recipe collection, Naturally Delicious, is an ode to all things from-scratch. They just happen to be really beautiful, too. 

If you are going to eat meat, I strongly believe it's a good idea to source organic beef that's from grass-fed cows. Here's why. Traditional factory farm–style lots feed cows grains. Great big silos full of grain. Which seems absolutely absurd when you realize that grass helps cows (and other grazing animals) grow and, in turn, create more meat. In fact, cows prefer grass to grain. Pound for pound, grass-fed is more economical and ecological, and the cows are happier.

Naturally Easy Tip: Since there are no strict standards for "grass-fed" beef in the United States, the next best thing is to look for a mark on the package from a third-party operation. The best mark is from the American Grassfed Association, which most sustainability experts agree has the best definition, procedures and certification methods for assuring you're getting real grass-fed meat products.
Ingredients
2

tablespoons

extra-virgin olive oil

1

medium onion, finely diced

3

garlic cloves, minced

1

red bell pepper, seeded, medium diced

1

pound

grass-fed ground beef

2

tablespoons

chili powder

1

tablespoon

ground cumin

1

teaspoon

ground coriander

1/4

teaspoon

salt

1/4

teaspoon

cayenne pepper

2

cups

beef broth

1

15-ounce can

roasted petite-diced tomatoes

1

jar

store-bought tomato salsa

1

15-ounce can

kidney beans, drained and rinsed

1

15-ounce can

pinto beans, drained and rinsed

1/4

cup

shredded cheddar cheese

2

scallions, trimmed, chopped

1

tablespoon

chopped cilantro

tortilla chips
Directions
For the chili
Heat the oil in a large Dutch oven over medium heat. Add onion, garlic and red pepper. Cover and cook for 5 minutes, stirring occasionally, until onions are translucent.

Add ground beef. Using a wooden spoon, break up the beef, cover pot, and cook for 5 minutes, until beef is browned.

Stir in chili powder, cumin, coriander, salt and cayenne; cook for 1 minute. Stir in beef broth, canned tomatoes and salsa. Bring to a simmer, and add beans. Simmer for 20 minutes.

Serve chili garnished with cheese, scallions and cilantro. Accompany with tortilla chips.