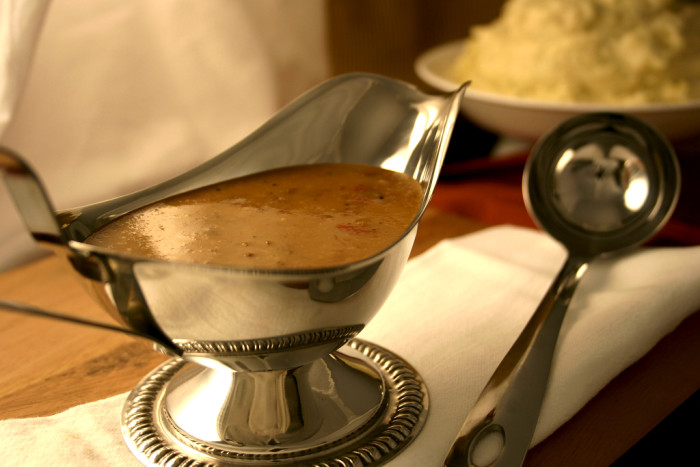 During our Thanksgiving test kitchen (and subsequent party), Food Republic's Food Scientist Jared Levan whipped up a batch of classic giblet gravy that put us off "slightly thickened pan drippings" for life. As if that wasn't enough, he proceeded to shred a combination of white and dark meat from our perfectly brined bird and toss it with the gravy to make turkey sloppy joe sliders that couldn't have flown off the platters faster if they'd had wings.
So reserve that packet of unidentifiable innards that came with your turkey — they're the tickets to this gravy train.
Ingredients
4

tablespoons

unsalted butter, separated

2

ribs

celery, chopped

1

medium

yellow onion, chopped

1

sprig

thyme

1

sprig

rosemary

2

large

sage leaves

2

bay leaves

5

cups

chicken stock

giblets of

one turkey, heart, gizzard, liver and neck

5

tablespoons

flour

1/2

cup

water
Directions
Sauté the celery and onions in 2 tablespoons of butter in a medium stock pot over high heat.
Add fresh herbs, chicken stock and giblets except for the liver — you don't want to cook the liver in the stock because it tends to make for a slightly bitter gravy.
Bring the stock to a boil, then reduce and simmer for 45-60 minutes.
Meanwhile, clean all fat from the liver and make sure to remove the gall bladder if it is still intact. Finely mince the cleaned liver, then sauté in two tablespoons of butter in a small saucepan over high heat. Some blood will be released by the liver, continue to cook until that stops happening. Remove from heat and reserve for later.
Strain the stock and return to the stock pot and return to a rolling boil.
In a small mixing bowl, combine the flour and water. Whisk until there are no lumps. (this can be done with warm water to make it a little easier).
Add in the turkey pan drippings (if you like), then the flour-water mixture a tablespoon at a time, whisking constantly until the gravy has thickened to the desired consistency.
Add in the reserved chopped liver and pureé with a hand blender to make a smooth gravy. You can also leave it un-blended if you like the texture with the chopped liver.