Classic Chicken Pot Pie Recipe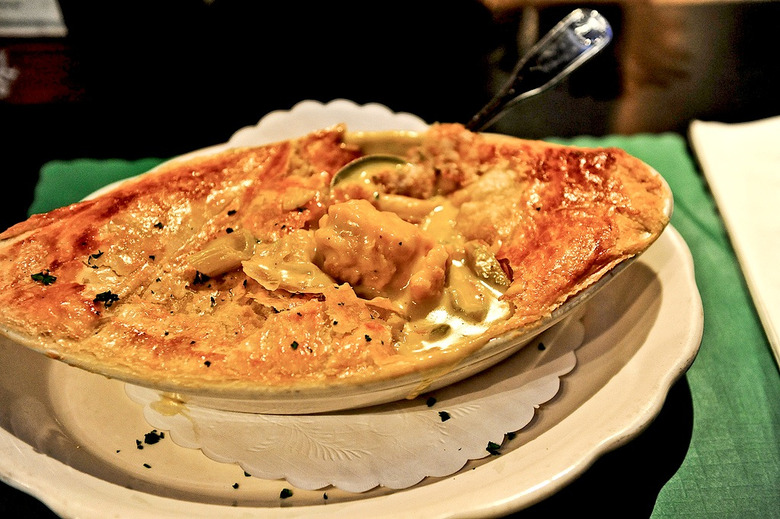 Photo: flickr4jazz on Flickr
I'm a big proponent of frozen puff pastry. It's not that I don't like the greasy film of flour that develops over my entire kitchen as I fold buttery layer over buttery layer twelve times (allowing ample time for it to rest, of course). No wait, it's that. Besides, the filling is where you want to focus your TLC.
Chicken pot pie is one of those incredibly homey and comforting cold weather dishes you only think you can't make at home because you're so used to popping frozen ones in the microwave. Take on an easy challenge you're sure to nail, put a pot on the stove and prepare the masses for some good old-fashioned home cooking with this classic chicken pot pie recipe.
Looking for the perfect crust for your chicken pot pie? Try our easy cornmeal crust recipe.
Classic Chicken Pot Pie Recipe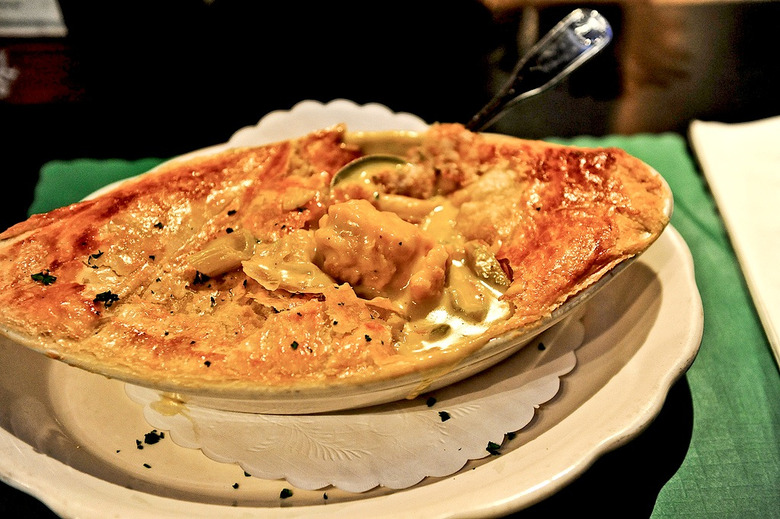 Ingredients
2 tablespoons olive oil
1 1/2 pounds boneless chicken thighs
1 large yellow onion
2 large carrots
2 stalks celery
1/4 cup unsalted butter
1/4 cup all-purpose flour
3 cups chicken stock
1 tablespoon fresh thyme leaves
1/2 cup heavy cream
1 cup peas
1 cup pearl onions
1 large sheet frozen puff pastry
1 large egg
Directions
Add the olive oil to a large, heavy-bottomed pot over medium heat. When it's hot, add the chicken pieces, season lightly with salt and pepper and saute until just browned.
Add the onion, carrot and celery and cook until transluscent, about 5 minutes.
Add the butter and stir until melted, then reduce heat slightly, add the flour and cook, stirring frequently, until the flour-butter mixture turns light brown, about 10 minutes.  
Add the chicken stock and thyme, bring to a simmer and cook for 15 minutes. Add the heavy cream, peas and pearl onions and cook for 10 more minutes.
Preheat oven to 400 degrees. 
Transfer chicken mixture to a large casserole dish or individual oven-proof bowls or ramekins if you wish and allow to cool slightly.
If using a casserole dish, drape puff pastry sheet over the filled dish and trim around the edges, leaving at least an inch hanging over. If baking individual portions, cut puff pastry to fit over the top leaving at least an inch hanging over the side. 
Pinch overlaying puff pastry to form a seal over the filling.
Brush lightly with beaten egg.
Cut a few small holes in the top to vent.
Bake for 20-25 minutes, or until crust is golden brown.