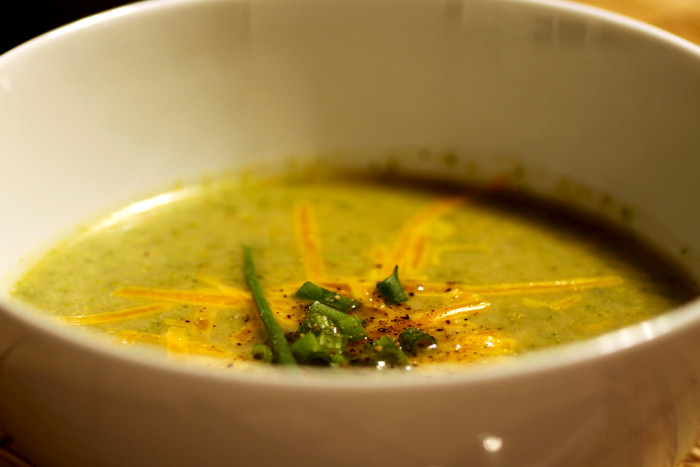 For the next four weeks, I will be exploring some familiar tastes and favorite flavors I grew up with but never had at home because we were vegan. I was still exposed to all the Mad Men ads that have made Kraft into the multi-billion dollar industry that it is today, though.
My interpretation of these American classics comes only after many strides have been made in the vegan world. As I explore them, I invite you to join me in seeing how they stack up to what you remember and how you can put your own twist on them to take these classic American favorites into the future. First up, broccoli cheddar soup. Feed your vegan!
VEGAN BROCCOLI SOUP RECIPE
Ingredients
1/4

cup

vegan butter

1

cup

onion, diced finely

1/2

tablespoon

garlic, minced

16

ounces

broccoli, fresh or frozen, chopped

1

quart

water or vegetable stock

1/4

teaspoon

white pepper

1

tablespoon

cornstarch, mixed with 1/2 cup water

1/4

cup

nutritional yeast

1 1/2

cups

unsweetened unflavored soy or almond milk

8

ounces

vegan cheddar cheese
Directions
In a medium saucepan over medium high heat, melt 2 tablespoons vegan butter and sauté onion, garlic and broccoli stems (if using fresh broccoli) and add salt. If using frozen, omit this step and cook all the broccoli together.
When stems are just cooked through, add water, cheese, milk and yeast, then remove from heat.
In a medium skillet over medium high heat, heat remaining butter, add broccoli flowers, and sauté until bright green. Remove from heat immediately and add broccoli to soup pot.
Blend using an immersion blender if you wish (it's great chunky, too). Add pepper and more salt to taste, and add cornstarch if you want it thicker.