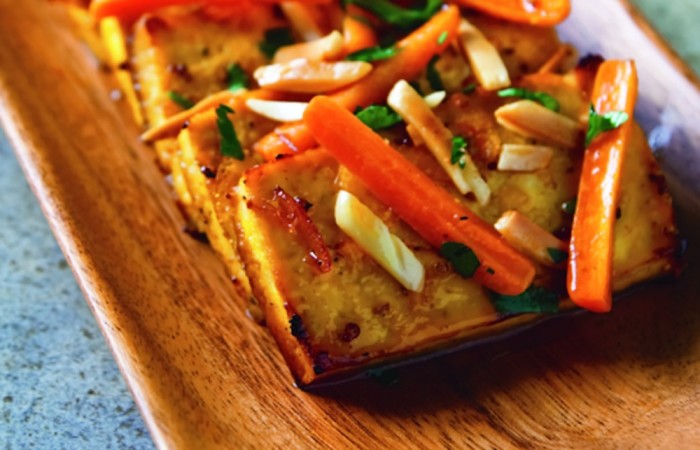 Tofu fans will love the light, citrusy flavors that permeate this elegant dish.
Ingredients
2

14- to 16-ounce tubs

extra-firm tofu
Orange marinade
juice of 1 orange

juice of 1 lemon

2

tablespoon

reduced-sodium soy sauce

1/2

cup

orange marmalade

1

tablespoon

Olive oil or other healthy vegetable oil

1

tablespoon

Yellow mustard

1/2

teaspoon

dried tarragon

several grindings of black pepper

8 to 10 baby carrots, quartered lengthwise

2

cloves

garlic, minced, optional

1/3

cup

silvered almonds

1/4

teaspoon

curry powder

1/4

cup

minced fresh parsley
Directions
Preheat the oven to 425º F.

Cut each block of tofu into 8 slices (about 1/2 inch thick) crosswise. Blot well between several layers of paper towel or a clean tea towel.

Combine the ingredients for the marinade in a small mixing bowl and whisk together.

Arrange the tofu in a single layer on a parchment-lined roasting pan. Spoon the marinade generously over the surface of the tofu. Roast for 15 minutes, or until the tofu begins to turn golden.

Carefully flip the tofu with a spatula, and spoon more marinade over the surface (you will likely have a bit left over). Roast for 15 minutes longer, or until the tofu is firm and golden.

Meanwhile, heat the oil in a small skillet. Add the carrots, garlic, and almonds, and sauté over medium heat, stirring frequently, until both are golden. Stir in the curry powder and remove from the heat.

When the tofu is done, transfer to a rectangular or oval serving platter or two, depending on their size, with the slices slightly overlapping one another.
Sprinkle the carrot-almond mixture evenly over the surface, topped by the parsley. Serve at once, passing around the additional marinade.