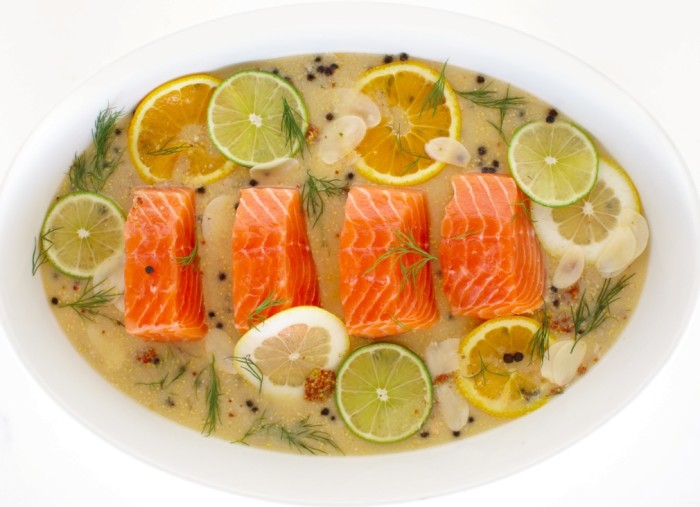 If you haven't heard of Lemonade, the fresh-food concept that's taken Los Angeles (and now Dubai) by storm, be sure to hit one up the next time you're on the West Coast. Our recipes editor is pretty obsessed, so you can imagine we jumped on Lemonade's newly released cookbook to share some of their best dishes with you.
Poaching fish is an easy, healthy way to get dinner on the table in a flash — as in this citrus-poached salmon with Dijon mustard recipe. The bright, tangy citrus broth made with orange, lemon, lime, dill and white wine enhances the forward flavor of the salmon, and doubles as the base for the mustard sauce. The poached salmon also makes a terrific salad for a hearty sandwich.
Ingredients
2

cups

vegetable broth or water

1/2

cup

dry white wine, such as Sauvignon Blanc

juice of

1 seedless orange, plus 3 slices

juice of

1 lemon, plus 3 slices

2

garlic cloves

2

fresh dill sprigs, plus 1 tablespoon chopped

1

teaspoon

whole black peppercorns

4

(5-ounce)

wild salmon fillets, skin removed

coarse salt

freshly ground black pepper

1

tablespoon

unsalted butter

1

tablespoon

whole-grain Dijon mustard

1 1/2

teaspoons

smooth Dijon mustard

1

teaspoon

honey or agave nectar
Directions
To prepare the poaching liquid for the salmon, pour the broth and wine into a wide, shallow skillet or pot. Add the orange, lemon and lime juices, sliced citrus, garlic, dill sprigs and peppercorns. Cover the pan and bring the liquid to a full boil over medium-high heat. You want to let the flavors of the aromatics infuse into the liquid.
Once it comes to a boil, reduce the heat to medium-low and continue to simmer gently for about 15 minutes.
Season the salmon generously with salt and pepper. Lay the fillets in the pan (the liquid should come up halfway), cover and simmer over medium-low heat until the salmon is barely opaque in the center, about 6 to 8 minutes. Take care to ensure that the liquid never gets hot enough to boil. Remove the salmon to a side plate.
To prepare the mustard sauce, pour 1 cup of the poaching liquid into a small pot, discarding the rest. Simmer over medium heat to reduce the liquid by half.
Whisk in the butter, whole grain and smooth mustards, honey and chopped dill; season with salt and pepper if needed. Pour the mustard sauce over the fish before serving.
Try out these salmon recipes on Food Republic: