Fish Dish: Make JJ Johnson's Citrus Jerk Bass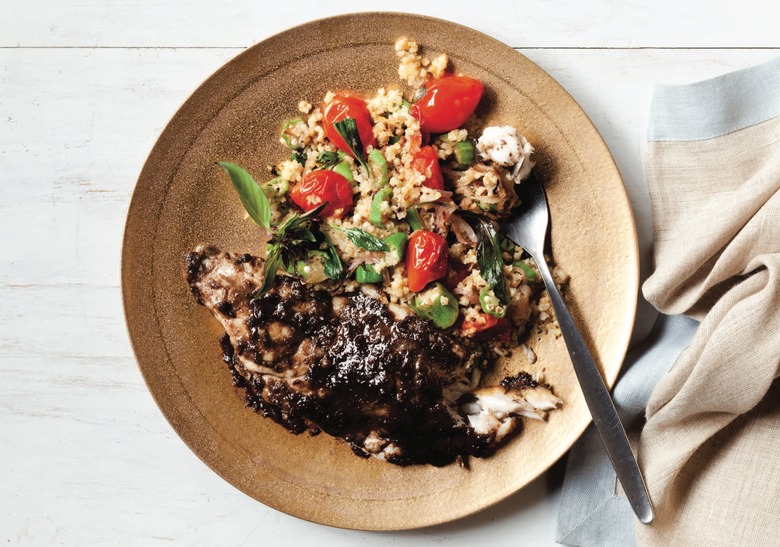 We may receive a commission on purchases made from links.
JJ Johnson, Harlem chef and subject of our recent video series New Chefs Rising, has a cookbook out that you're going to love. Dive into his unique style of fusion fine cuisine, with Latin, Southern and island influences that are a sight to behold and a wonder to savor. Freshen up your fish game with Johnson's citrus jerk bass, then cook your way through the rest of Between Harlem and Heaven.  
Jerk dishes take me back, way back. First to my great-aunt, whose cooking connects me to the West Indies every time I get a taste of pork or chicken that's been dry rubbed with that island mix. The irony is that as a kid, growing up in a family that hailed from Barbados and Puerto Rico, I didn't really like island food. I wanted to eat American food like meat loaf and spaghetti. But once I became a chef, I fell in love with all the flavors I grew up with. This is basically my homage to my aunt's recipe. All I've done here is add citrus to it to brighten up the flavors. The notes of orange, lemon and lime in this dish make it a perfect pairing with our Oleo Saccharum Demerara syrup. This syrup is the base for any citrus cocktail.
Fish Dish: Make JJ Johnson's Citrus Jerk Bass
Freshen up your fish game with Johnson's citrus jerk bass, then cook your way through the rest of "Between Harlem and Heaven."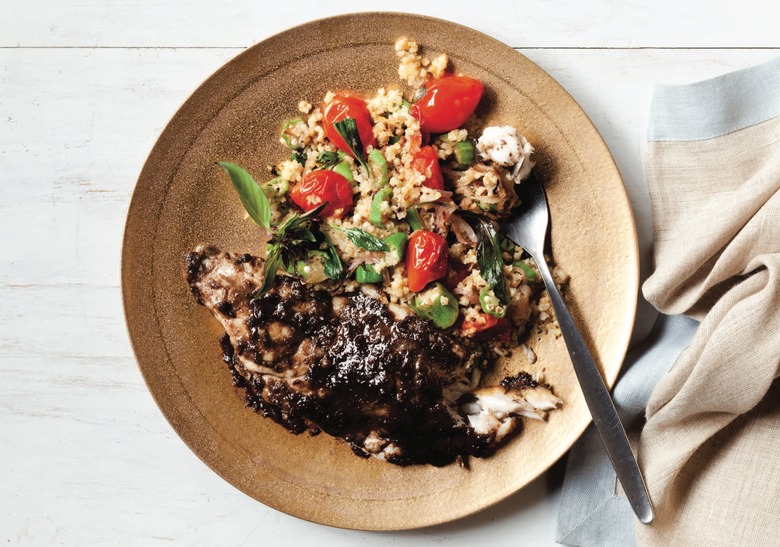 Ingredients
1/4 cup soy sauce
1 tablespoon worcestershire sauce
1 teaspoon chopped fresh thyme
1 scallion
1 clove garlic
1/4 Scotch Bonnet pepper
1 teaspoon chopped fresh ginger
1/2 teaspoon ground allspice
1 teaspoon whole black peppercorns
2 tablespoons orange juice
1 tablespoon fresh lemon juice
1 teaspoon finely grated lemon zest
1 tablespoon finely grated lime zest
1/2 teaspoon kosher salt
1 teaspoon brown sugar
2 tablespoons vegetable oil
6 4-ounce bass fillets
2 tablespoons olive oil
1 teaspoon minced ginger
1 teaspoon minced garlic
1/4 cup small-diced shallots
1/2 cup sliced okra
1/2 cup grape tomatoes
1 cup fonio
1/4 cup torn Thai basil
Directions
:::fonio:::
In a 2-quart saucepan, heat the oil over medium heat. Sweat the ginger, garlic, and shallots and cook for 3 minutes, until the onion becomes translucent. Add the okra and tomatoes.
When the tomatoes burst, add the fonio and stir with the vegetables to coat. Add 1½ cups of water, bring to a simmer, cover tightly with the lid, and turn the heat to low. Cook for about 20 minutes.
Fluff with a fork and let it steam for 5 minutes. Stir in the torn Thai basil.
:::bass:::
Combine all the ingredients except the fish and fonio in a blender and puree until smooth and completely combined.
Take the fish and lightly score the skin diagonally in four places with a sharp knife, making sure not to cut too deeply. Place the fish in a nonreactive container with a lid and cover with the jerk marinade. Cover and refrigerate for at least 2 hours and up to 12 hours.
Preheat the oven to 350°F and put a cast-iron grill pan in the oven to heat until it's very hot (test by sprinkling a drop of water on the pan to see if it sizzles).
Remove the fish from the marinade and pat dry. Place in the hot pan skin side down and cook for 5 to 6 minutes. Turn the fish over and cook for 5 more minutes, until the fish flakes easily with a fork.
Remove from the pan and serve over fonio.