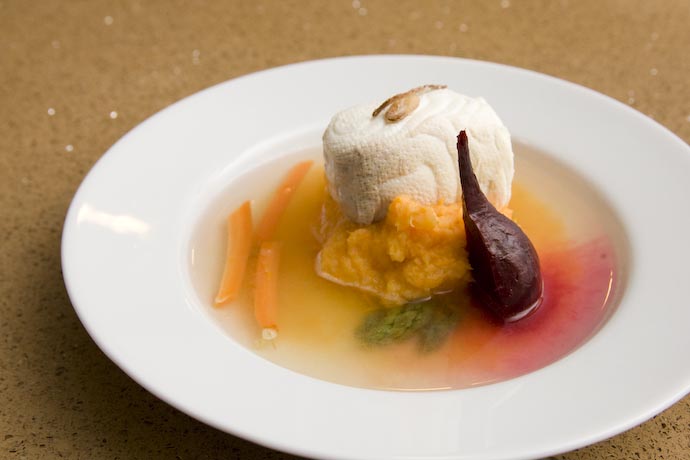 Prometheus Springs' co-founder Alexis Mincolla recently promoted the new beverage brand with an underground supper club dinner in Los Angeles, a smart way to build interest in a start-up brand whose drinks Pepsi execs deemed "too spicy."
He tapped chef Pace Webb, whom Mincolla met at university in Italy years ago, and who is now behind Taste of Pace Catering in LA, and she came up with a few recipes that incorporate Prometheus Springs' range of flavors.
For this halibut recipe, Webb poached the meaty white fish in Prometheus Springs Citrus Cayenne Elixir, then served it with mashed potatoes and fried shallots. Kinda makes you wish you were at the party, doesn't it? Well check out video from the dinner party, then grab some Prometheus Springs and try this recipe yourself.
Ingredients
2 1/4

pounds

Halibut, portioned into 6 oz. filets

32

ounces

Prometheus Springs Citrus Cayenne

cheesecloth

salt to taste
Directions
1) Bring Prometheus Springs Citrus Cayenne to just below a simmer, about 180 degrees.
2) Wrap each filet in cheesecloth and tie off. This is to prevent the fish breaking during the poaching process. Season the filets with salt.
3) Submerge filets into liquid and cook 10 minutes per inch of thickness (height). Retain liquid and remove filets onto a sheet tray. Cut off or untie the cheesecloth. Serve with poaching liquid.
*A nice accompaniment to this dish is mashed potatoes served below the filet with a garnish of fried shallots atop the filet.