Cinnamon Streusel Coffee Cake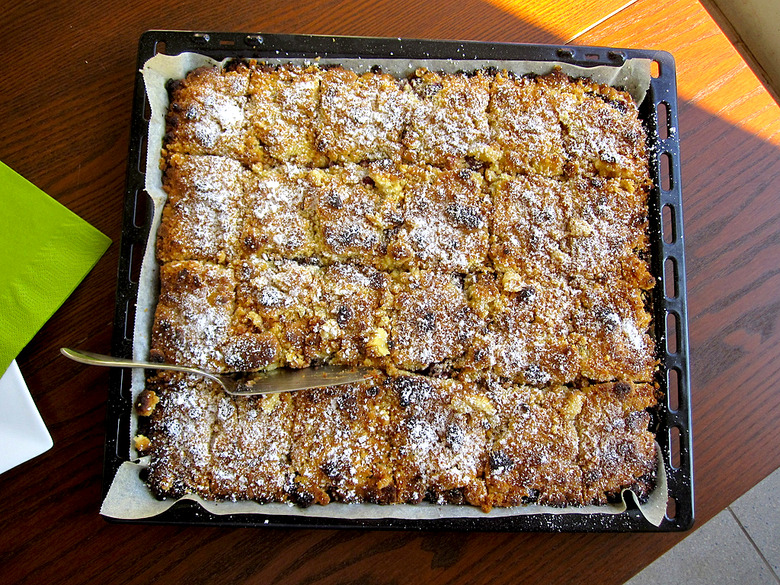 cinnamon streusel coffee cake
Interestingly enough, we have yet to find a single recipe for coffee cake that actually includes coffee. We're just assuming that means coffee is the recommended pairing for this cinnamon-streusel topped pan of heaven, although since we're making it for brunch we might have to force it down with a bottomless mimosa or three. That's right, three bottomless mimosas. What were we talking about again? Oh right, coffee cake.
Cinnamon Streusel Coffee Cake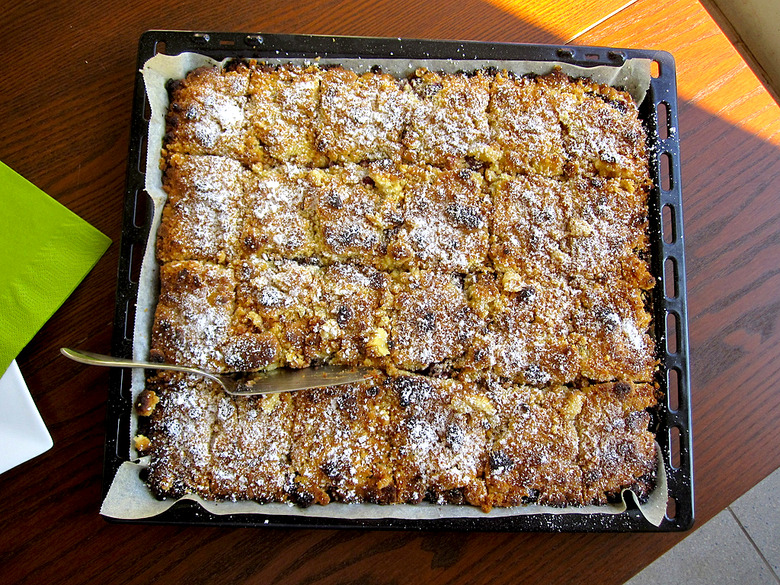 Ingredients
1 3/4 cups all-purpose flour
3/4 cup packed light brown sugar
1 teaspoon ground cinnamon
1 teaspoon coarse salt
1 stick butter
1 cup brown sugar
1 1/2 tablespoons ground cinnamon
1 teaspoon unsweetened cocoa powder
1 stick unsalted butter
2 cups all-purpose flour
1 teaspoon baking powder
1 1/4 teaspoon baking soda
coarse salt
1 cup granulated sugar
2 large eggs
1 1/2 teaspoons pure vanilla extract
1 cup sour cream
Directions
Preheat oven to 350° and lightly grease a 9"x13" pan.
Make the topping by whisking together brown sugar, salt, flour, and cinnamon.  Add the melted butter, stirring until well combined and crumbly.
Make the filling by mixing together the brown sugar, cinnamon and cocoa powder. 
To make the cake, mix the flour, baking powder, baking soda and 1/2 teaspoon salt into a bowl.
Beat butter and granulated sugar with a mixer on medium speed until pale and fluffy, about 2 minutes.
Beat in eggs, one at a time, followed by vanilla. Add and beat in half of the flour mixture, then beat in the sour cream, followed by the rest of the flour mixture. Beat until well combined.
Spoon half of the batter into the pan. Sprinkle streusel center mixture evenly over the batter and top  with remaining batter, spread evenly. 
Sprinkle streusel topping mixture evenly over the batter and bake cake in oven until golden brown, about 55 to 60 minutes. If you stick a toothpick in the center of the cake and it comes out clean, it is done.
Remove the cake from the oven and allow to cool for 20 minutes before serving.