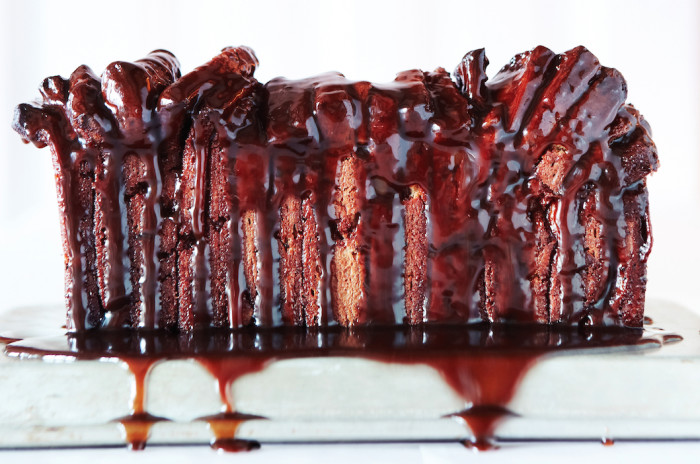 Amsterdam's beloved cook, TV host and magazine editor Yvette Van Boven has a new book out that spotlights her favorite baked goods. Photographed to perfection (see above gem), Home Baked is the one book the home baker, blogger, Instagrammer and general culinary show-off should pick up right away. Hey, everyone wins, right? This cinnamon and caramel pull-apart bread is the sticky, gooey, sweet confection every brunch should end with.
Ingredients
Dough
3

cups

all-purpose flour, or more as needed

Scant 1/4

cup

sugar

2

teaspoons

instant yeast

1/2

teaspoon

salt

1/2

cup

milk

1/4

cup

butter, plus more for the pan

Seeds of 1 vanilla bean

2

eggs, at room temperature
Filling
1/4

cup

butter, at room temperature

3/4

cup

packed light brown sugar or cane sugar

2

teaspoons

cinnamon
Caramel
9

tablespoons

butter

1/2

cup plus 1 tablespoon

packed dark brown sugar

3

tablespoons

milk or heavy cream
Directions
For the loaf
First, make the dough: In the bowl of a stand mixer fitted with a dough hook, thoroughly combine 2 cups (250 grams) of the all-purpose flour with the sugar, yeast, and salt.

Heat the milk, butter, and vanilla in a small saucepan over medium heat until the butter has just melted. Allow it to cool somewhat. Add the lukewarm milk-butter mixture to the dry ingredients and knead everything into a firm dough. Then, one by one, add the eggs and continue mixing until everything is blended and the dough has become very smooth.

Now add the rest of the flour and, with flour-dusted hands, knead the dough on the kitchen counter until it's soft and supple. Go on kneading for at least 8 minutes. If needed, you can add some more liquid (milk or water) if the dough seems dry, or flour if the dough is sticky. Form the dough into a ball and place it in a greased bowl. Cover with plastic wrap and set aside in a warm spot for at least 1 hour to rise.

Meanwhile, make the filling: In a small bowl, combine the butter, brown sugar, and cinnamon into a spreadable paste.

Once the dough has doubled in volume, remove it from the bowl and, on a flour-dusted countertop, roll it out into a large flat rectangle of 16 by 9½ inches (40 by 24 centimeters). Using a spatula, spread the cinnamon butter over the entire dough rectangle. Then, using the back of a knife, slice the dough lengthwise into 4 or 6 long strips. Stack them and cut them into squares. Stack the dough squares vertically inside a well-greased 1½-quart (1.5-liter) loaf pan. This should be done somewhat loosely, leaving the dough some room to rise. Cover it with some plastic wrap and allow it to rise for another 45 minutes.

About 20 minutes before bake time, preheat the oven to 340ºF (170°C). Bake the bread for 35 to 40 minutes. If the top is browning too fast, you can cover it loosely with some aluminum foil. Allow the bread to cool on a rack, then carefully turn it out onto a large plate.

Meanwhile, make the caramel: Melt the butter and brown sugar together in a heavy saucepan over low heat. Gently stir in the cream (careful, the syrup's hot!) and pour the hot caramel over the bread in a thin stream, making sure it reaches all spots. You can keep some of the caramel for later when you're serving. Eat the bread while still warm and the caramel is deliciously soft and melted. Or serve it cold, so you get crispy caramel.