Chunky Pork And Fennel Pie Recipe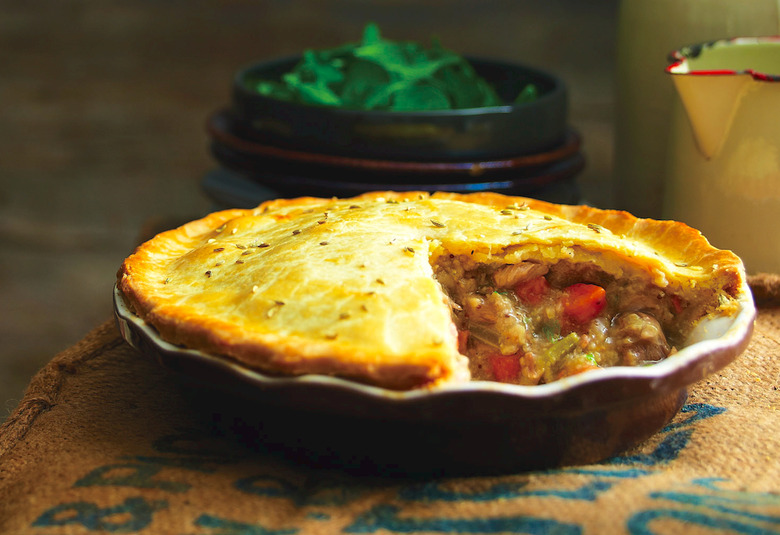 We may receive a commission on purchases made from links.
When it comes to the basics, look no further than a cookbook by renowned Test Kitchen master Pamela Clark. Her simple, triple-tested recipes are delicious and genuinely foolproof. Her newest book, Pocket Pies, celebrates empanadas, pasties, turnovers and more from the world of sweet and savory handheld pastry.
Chunky Pork And Fennel Pie Recipe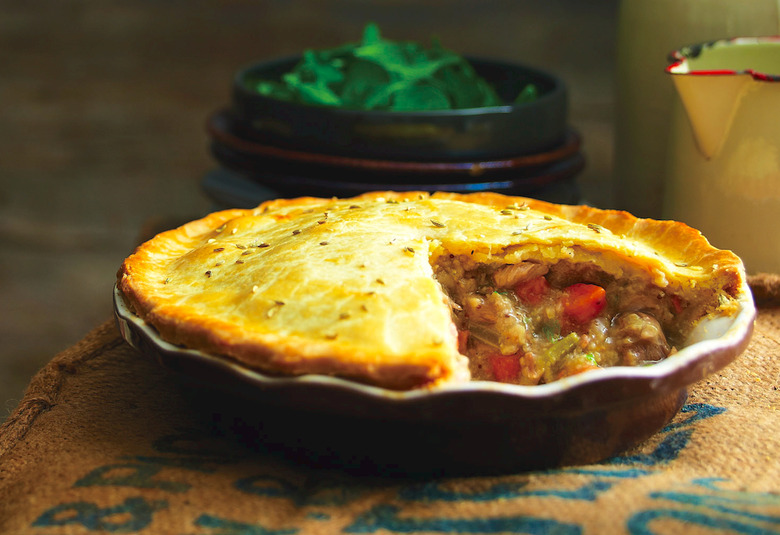 Ingredients
3 cups plain (all purpose) flour
1 teaspoon fennel seeds
1 1/2 sticks plus 1 tablespoon butter
2 eggs
1/4 cup iced water
2 pounds pork shoulder
1/3 cup plain (all purpose) flour
2 tablespoons olive oil
1 large yellow onion
1 large carrot
1 stick celery
1 large fennel bulb
2 cloves garlic
2 teaspoons fresh thyme
1 1/3 cups chicken stock
2 tablespoons fennel tops
1 tablespoon wholegrain mustard
1 egg
1/4 teaspoon fennel seeds
Directions
Process flour, seeds and butter until crumbly.
Add eggs and enough of the water to make ingredients just come together.
Knead pastry on floured surface until smooth, enclose with plastic wrap; refrigerate 30 minutes.
Toss pork in flour; shake away excess.
Heat oil in large saucepan; cook pork in batches, until browned; remove from pan.
Add onion, carrot, celery and fennel to pan; cook, stirring, until softened.
Add garlic and thyme; cook, stirring, until fragrant.
Return pork to pan with stock; bring to a boil.
Simmer, covered, 1 1/2 hours.
Simmer, uncovered, about 20 minutes or until mixture is slightly thickened.
Stir in fennel tops and mustard; season to taste, cool.  
Preheat oven to 350°F.
Oil deep 9 1/2-inch pie dish (6-cups).
Roll half the pastry between sheets of parchment paper until large enough to line dish.
Press pastry into side; trim edge.
Prick base with fork.
Cover pastry with parchment paper, fill with dried beans or rice.
Bake 15 minutes. Remove paper and beans, bake further 10 minutes or until browned. Cool.
Spoon pork mixture into pastry case.
Brush edge of pastry with egg.
Roll remaining pastry until large enough to cover top of dish, place over filling; pinch edges together, trim.
Brush with egg; sprinkle with seeds.
Cut several steam holes in pastry.
Place pie on cookie sheet; bake about 30 minutes or until browned. 
Andrew Carmellini's Chicken Pot Pie Recipe
Italian Meat Pie Recipe
Shepherd's Pie Recipe