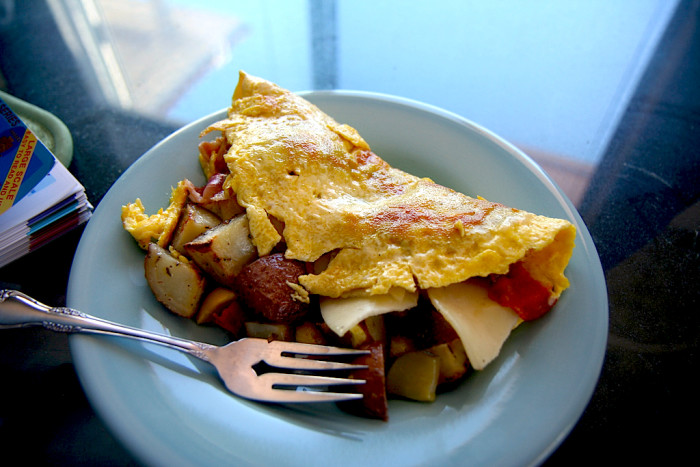 If you've mastered our easy cheese omelet technique, we applaud you, seeing as it's really easy. If you haven't, try out this only slightly more challenging chorizo, potato and green chile omelet anyway. If it falls apart when you flip it, maybe it won't next time. The only way to find out is to keep trying. Chicks really dig guys who eventually succeed at this. Leftover roasted potatoes or home fries work perfectly in this omelet, just omit the frying step and add them in just before the beaten eggs.
Ingredients
1

link

chorizo, removed from casing

2

tablespoons

red onion, finely chopped

1/2

cup

potatoes, peeled and cut into 1-inch cubes

1

tablespoon

canned chopped green chiles

2

eggs, beaten

1

ounce

monterey jack cheese, shredded or sliced

1/4

cup

salsa
Directions
In a small nonstick skillet over medium high heat, brown the chorizo and onions until just cooked through (3-5 minutes) and transfer to a plate with a slotted spoon, leaving the drippings in the pan.
Fry potatoes in the chorizo drippings over medium heat until browned and tender, 8-10 minutes, tossing occasionally to prevent burning.
Lower heat, add chorizo, onions and chiles, then pour in beaten eggs and shake pan to evenly distribute.
Cook on low until the bottom of the omelet is set and golden brown. Gently lift up one edge with a spatula after 3 minutes to check on the progress.
When set, add cheese and salsa to one side of the omelet, then flip the other side over to cover. Cook on each side for another minute, then transfer to a plate and serve immediately.