Chorizo And Shrimp Rice Recipe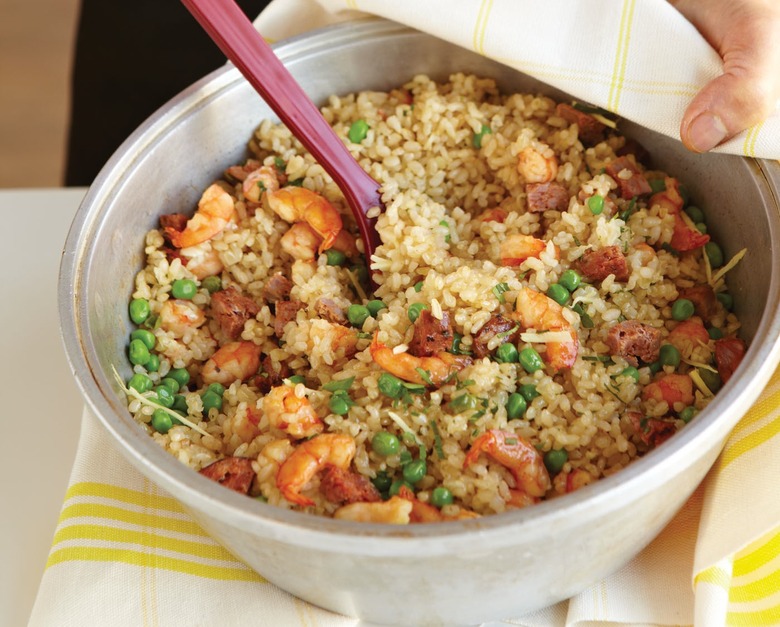 A simple and hearty dish. (Photo: Frances Janisch.
My teaching trips to Spain have inspired this combination of Spanish chorizo and shrimp takikomi gohan. I often make a double batch and freeze some for a quick and satisfying lunch. In this recipe, I use wholesome brown rice, but this dish is also very good with polished white rice.
If you are able to buy shrimp in the shell, reserve the shells (and heads) and make a stock by boiling them in 2 cups of water for 25 minutes. Then strain and use as a substitute for the bottled clam juice in this recipe.
Chorizo And Shrimp Rice Recipe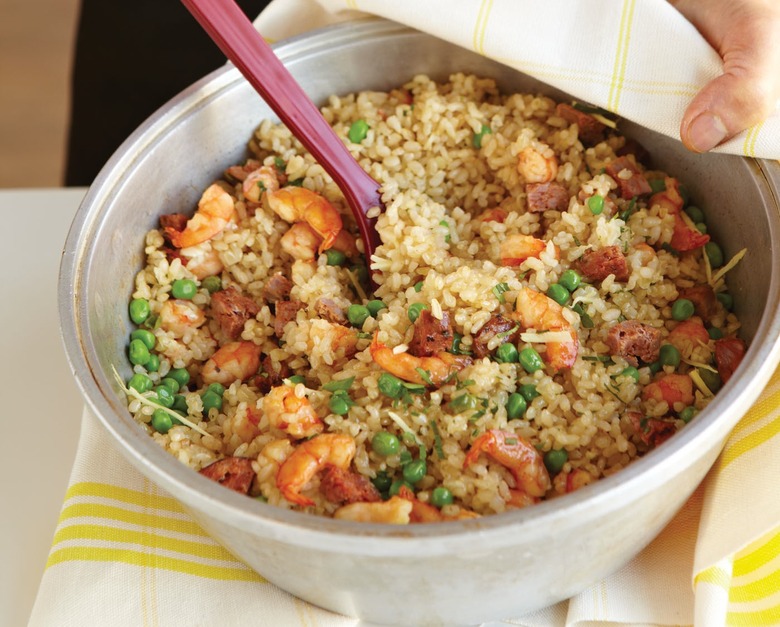 Ingredients
2 1/4 cups long- or medium-grain brown rice (for rice cooker: 3 rice cooker cups)
6 ounces uncooked spicy Italian pork sausage or 3 ounces Spanish-style cured chorizo
10 ounces small shrimp
2 cloves garlic
1 tablespoon canola oil or vegetable oil
1/2 cup chopped yellow onion
pinch of saffron
1 cup clam juice
3 1/2 cups kelp stock or low-sodium vegetable stock
1 cup fresh or frozen green peas
1 teaspoon sea salt
1/4 cup ginger
Directions
Rinse and soak the rice. Drain the rice and let it stand in a fine-mesh sieve for 20 minutes to dry.
Place the spicy Italian pork sausage, whole, in a pot of boiling water for 3 minutes (you don't need to pre-cook the Spanish-style cured chorizo), then drain and set aside.
Cut the shrimp diagonally into halves crosswise. Cut the garlic into thin slices. Heat the canola oil in a skillet over medium-low heat. When the oil is hot, add the onion and cook for 2 minutes or until transparent. Increase the heat to medium, add the garlic and saffron and cook for 20 seconds. Add the shrimp and cook just until the shrimp turns white.
Place the drained rice, clam juice and stock in a medium pot. Level the surface of the rice and evenly scatter the onion and shrimp mixture on top of the rice, then follow with the whole chorizo, green peas and salt. Do not stir the rice.
Cover the pot with a lid and cook the rice as instructed.
After the rice is cooked, carefully remove the lid and transfer the whole chorizo or sausage to a cutting board. Cut the chorizo or sausage into ½-inch dice. Scatter the chorizo or sausage pieces on top of the rice along with the sliced ginger. Do not stir the rice at this time. Immediately cover the pot and let the rice stand for 10 minutes.
Remove the lid and gently fold the rice and ingredients together with a spatula. Divide the rice into small bowls and serve.
Arroz Abanda Recipe
Ginger Fried Rice Recipe
Mediterranean Brown Rice Salad Recipe
Coconut Sticky Rice Recipe