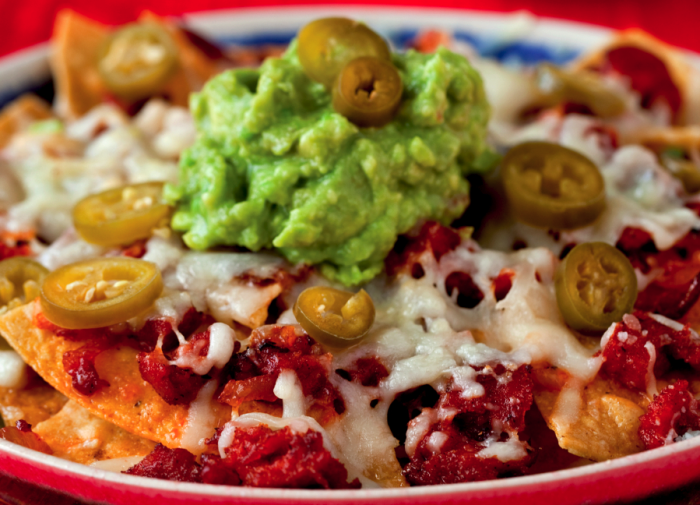 There's no better place for a nachos cookbook than the shelves of the Food Republic library, and no better way to snack than updating a beloved classic. That's something we learned after replacing jack cheese with manchego and ground beef with chorizo. Now we're ruined for life. 
My favorite discovery since Nachos NY began is my love of chorizo. It tastes excellent with everything, especially here with the Manchego.
Related: Does The World Need 84 Nachos Recipes? These Two People Think So.
Ingredients
1

tablespoon

vegetable oil

3

garlic cloves, minced

1/2

onion, diced

1/2

pound

fresh chorizo, casings removed

2

avocados, halved lengthwise, pitted, flesh scooped out

2

pickled Serranos pepper, 1 diced and 1 sliced

juice of

1 lime

salt

7

ounces

tortilla chips

1/2

pound

Manchego cheese, shredded

simple guacamole
Directions
In a skillet over medium heat, heat the vegetable oil, then add 2 of the diced garlic cloves and the onion.
When the garlic and onion become translucent, add the chorizo, breaking it up as it browns.
In a separate bowl, mash the avocados with 1 clove of the garlic, the diced serranos, lime juice and salt.
Preheat the broiler to 500°F.
Layer the tortilla chips in a 9 x 13-inch roasting pan.
Evenly distribute the chorizo over the chips followed by the shredded cheese.
Add the sliced serrano peppers on top.
Place the chips under the broiler and broil for 8 minutes.
Add the guacamole and serve.
More nachos recipes on Food Republic: