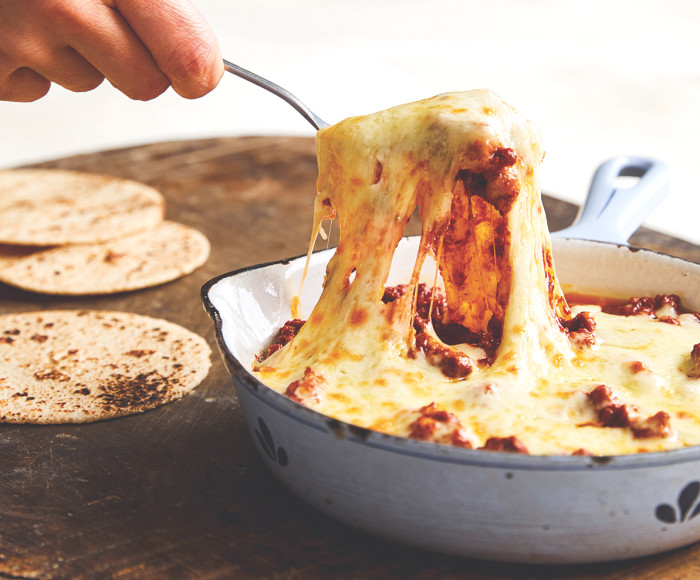 There's a very good reason there's an exclamation point at the end of Homesick Texan Lisa Fain's new cookbook, Queso! It's hard not to say it without, well, exclaiming! If there's one dish in the Texas repertoire to be truly excited about, it's queso. This book has every recipe — plus some essential knowledge — you could ever need to become a true master. Ready to make some choriqueso? It's every bit as delicious as it sounds. 
In the South Texas border town of Laredo, a skillet queso of stringy white cheese studded with tangy chorizo sausage reigns supreme. Choriqueso, as it's commonly known, is so prevalent that it can be difficult to find creamy yellow queso there. This is a hearty dish meant to be eaten with tortillas, and it can be enjoyed at any hour of the day. You could use store-bought chorizo and remove the casing, but it's not difficult to make your own, as many in Laredo do and as I do here.
Ingredients
2

ancho chiles, seeded, rehydrated and chopped

2

tablespoons

red wine vinegar

1/4

cup

water

2

tablespoons

chopped yellow onion

1

clove

garlic, chopped

1/2

teaspoon

kosher salt

1/2

teaspoon

ground cumin

1/2

teaspoon

paprika

1/2

teaspoon

ground cinnamon

1/4

teaspoon

cayenne

1

tablespoon

vegetable oil

1/2

pound

ground pork

1

pound

monterey jack cheese, shredded

Warm flour tortillas, for serving
Directions
For the queso
Place the anchos in a blender with the vinegar and water. Blend until smooth, then add the onion, garlic, salt, cumin, paprika, oregano, cinnamon, and cayenne. Blend again until smooth, scraping down the sides with a rubber spatula as needed. If it's too stiff to blend properly, add water, 1 tablespoon at a time.

In a large broiler-safe skillet, warm the vegetable oil over medium- low heat. Pour in the chile puree and cook for 1 minute. Add the ground pork and stir until well combined with the sauce. Cook, stirring occasionally, until no longer pink, about 10 minutes. Taste and adjust the seasonings, if you like.

Position a rack 6 inches from the upper heating element and preheat the broiler.

Evenly sprinkle the Monterey Jack cheese over the cooked chorizo in the skillet. Place the skillet under the broiler and cook for 2 minutes, or until the cheese is lightly browned and bubbling.

Serve warm in the skillet with tortillas.