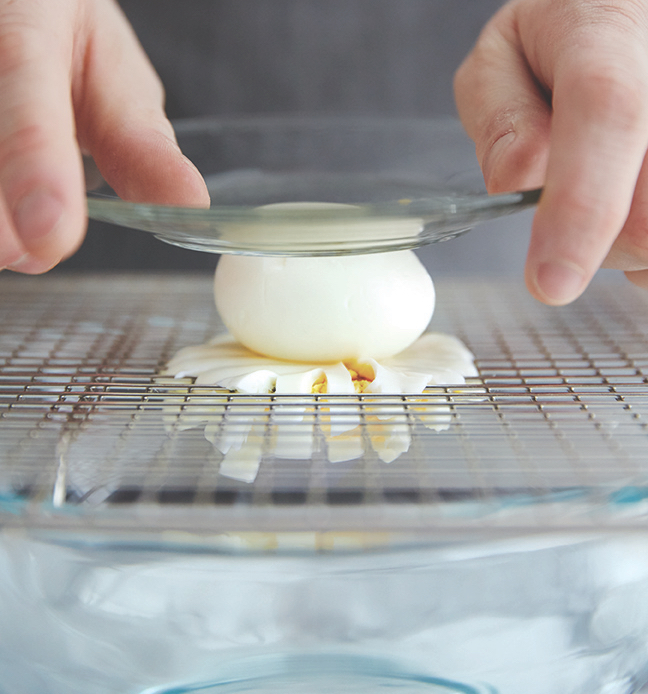 Mad Genius Tips is Food & Wine's new gift to the home cooking community. Join senior editor Justin Chapple in chapter after chapter of simple hacks you never knew you needed in your kitchen. Genius: Push a hard-boiled egg through a wire cooling rack to make uniform cubes that make perfect egg salad, or in this case, a chopped egg and potato salad that comes together in no time. 

Make Ahead: The egg and potato salad can be refrigerated for up to 6 hours. Bring to room temperature and fold in the onion, arugula, parsley and dill before serving.
Ingredients
6

large eggs

1 1/4

pounds

baby red potatoes

Kosher salt and pepper

1/2

cup

extra-virgin olive oil

1/4

cup

champagne vinegar

1

tablespoon

whole-grain mustard

1

small red onion, halved and thinly sliced

1 1/2

cups

lightly packed baby arugula

1

cup

lightly packed parsley, chopped

1/2

cup

lightly packed dill, chopped
Directions
For the salad
In a medium saucepan, cover the eggs with water and bring to a boil. Simmer over moderate heat for 8 minutes. Drain and cool under running water, then peel.

In the saucepan, cover the potatoes with water and bring to a boil. Add a generous pinch of salt and simmer over moderate heat until tender, about 15 minutes. Drain well and let cool slightly.

In a large bowl, whisk the olive oil with the vinegar and mustard. Season with salt and pepper.

Set a crosshatch baking rack over the bowl. Put one egg on the rack and, using a small plate, press it through the rack.

Repeat with the remaining eggs and the potatoes. Add the onion, arugula, parsley and dill and gently fold to mix. Season generously with salt and pepper and fold again. Serve.