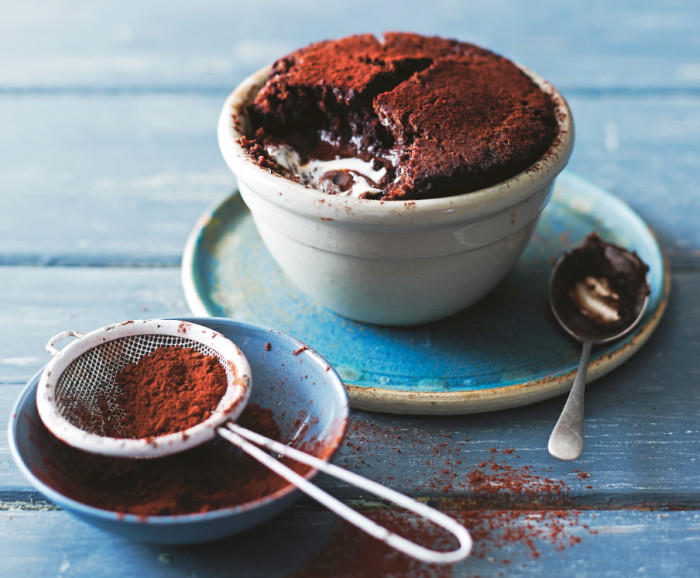 One of the great things about drinking at a real pub — gastro or otherwise — is that the food will be perfect for whatever's in your pint glass. That's why we're loving cookbook author Rachael Lane's Great Pub Food, a tome packed with all things beefy, cheesy, fried, salty and otherwise perfect for the bar-frequenter. When it's time for dessert, reach for the stout. This chocolate stout pudding recipe is no Snack Pack.
Ingredients
1

cup

self-rising flour

1/3

cup

caster (superfine) sugar

1/3

cup

unsweetened cocoa powder

1/2

cup

milk

1 3/4

ounces

unsalted butter, melted

1

large egg, lightly beaten

1 3/4

ounces

dark chocolate, coarsely grated

2/3

cup

firmly packed dark brown sugar

1 1/2

cups

stout beer

cream or ice cream, to serve
Directions
Preheat the oven to 350°F. Lightly grease six 1 cup ovenproof ramekins. Sift the flour, caster sugar and half of the cocoa powder together into a medium-sized bowl. Add the milk, melted butter and egg and mix well. Add the chocolate and stir to combine. Spoon the batter into the prepared ramekins.
Combine the remaining cocoa powder with the brown sugar and sprinkle over the top of the puddings. Combine the stout and 3/4 cup water in a small saucepan and bring to the boil over high heat. Pour over the pudding batter.
Place the ramekins in a baking tray and pour enough boiling water into the tray to come halfway up the sides of the ramekins. Bake in the oven for 15–20 minutes, or until risen and firm to the touch. Serve hot with cream or ice cream.
More chocolate dessert recipes on Food Republic: