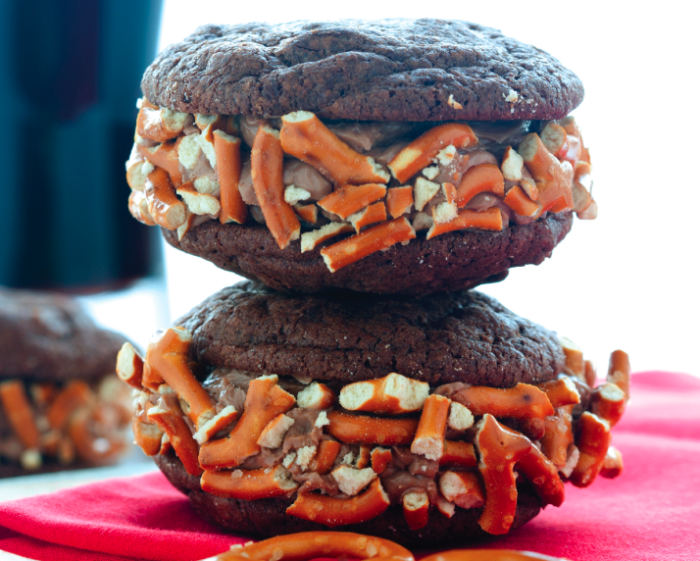 Ice cream sandwich season! That was us screaming for ice cream. Tessa Arias' handy new guide to every kind of ice cream sandwich, made with every kind of cookie, brownie and bar imaginable, will fuel us well into the fall. Next up, the classic stout beer and chocolate pairing make a great frozen dessert. 
Perfect for St. Patrick's Day, this super chocolaty ice cream sandwich has a slight hint of stout beer that works perfectly with the salty pretzels around the edges. Fantastically sweet and salty ice cream sandwich made from bar food? Who would have thought?
Ingredients
Chocolate stout ice cream
1 1/4

cups

whole milk

1 1/4

cups

heavy cream

1

teaspoon

vanilla extract

1/4

teaspoon

fine sea salt

1/4

cup

unsweetened cocoa powder, sifted

1/2

cup

granulated sugar

1/4

cup

packed light brown sugar

4

large egg yolks

4

ounces

semisweet chocolate, chopped

3/4

cup

stout beer
Chocolate stout whoopie pies
2

cups

all-purpose flour

1/4

cup

unsweetened cocoa powder

1

teaspoon

baking powder

1/2

teaspoon

baking soda

1/4

teaspoon

fine sea salt

4

ounces (1 stick)

unsalted butter, at room temperature

1/2

cup

packed light brown sugar

1/3

cup

granulated sugar

1

large egg

1

teaspoon

vanilla extract

3/4

cup

stout beer, divided
Decorating
crushed pretzels (about 1/2 cup), for rolling
Directions
For the chocolate stout ice cream:
Prepare an ice bath by filling a large bowl with ice cubes and 1 to 2 cups of water. Place a medium bowl fitted with a fine strainer inside the ice bath.
In a medium saucepan, combine the milk, cream, vanilla, salt, cocoa and granulated sugar. Set over medium heat, stirring occasionally, until the mixture is warm and begins to steam, about 5 minutes.
In a medium bowl, whisk together the egg yolks and the brown sugar until well combined. Carefully whisk half of the warm milk mixture into the egg yolks, one ladleful at a time, until the egg mixture is warmed. Whisk the egg milk mixture back into the saucepan. Cook the mixture over medium heat, stirring constantly with a wooden spoon, until the mixture is thick enough to coat the back of the spoon and registers around 175°F on an instant-read thermometer, about 5 to 7 minutes. Be careful not to boil the mixture.
Immediately strain the mixture through the fine strainer into the prepared ice bath. Stir in the chocolate until melted and smooth. Add the stout, stirring to combine. Cool the custard in the ice bath until it reaches room temperature, stirring often. Press plastic wrap against the surface of the custard and refrigerate until chilled, about 4 hours or up to 1 day.
Pour the chilled mixture into an ice cream maker. Freeze according to the manufacturer's directions. Transfer the ice cream to an airtight container, press plastic wrap against the ice cream surface and freeze until it is firm and the flavor is ripened, at least 4 hours.
For the chocolate stout whoopie pies:
In a medium bowl, sift together the flour, cocoa powder, baking powder, baking soda and salt.
In a large bowl, beat the butter and sugars on medium-high speed until well combined and smooth, about 1 to 2 minutes. Add the egg and vanilla and beat until combined. On low speed, add half of the stout. Add half of the flour mixture, beating until combined. Add the remaining stout, then the remaining flour mixture until combined.
Cover the dough with plastic wrap and chill in the refrigerator for 30 minutes, or until firm.
Preheat the oven to 350°F. Line baking sheets with parchment paper.
Using a spoon or spring-loaded scoop, drop the batter into 1 1/2-tablespoon rounds onto prepared baking sheets, spacing 2 inches apart. Bake for about 10 minutes, or until the edges are set and the tops spring back when touched. Let cool on baking sheets for 5 minutes before removing to wire racks to cool completely. Freeze the whoopie pie halves until frozen, at least 1 hour. Whoopie pie halves can be stored in airtight containers in the freezer for up to 1 month.
For assembly:
Place the crushed pretzels in a shallow dish. Top one whoopie pie half with a scoop of ice cream.
Place another whoopie pie half on top of the ice cream and gently press down to form a sandwich. Roll the edges of the sandwich in the crushed pretzels.
Immediately place the sandwich in the freezer. Repeat for the remaining whoopie pies. Freeze for at least 2 hours before serving.
More frozen treat recipes on Food Republic: