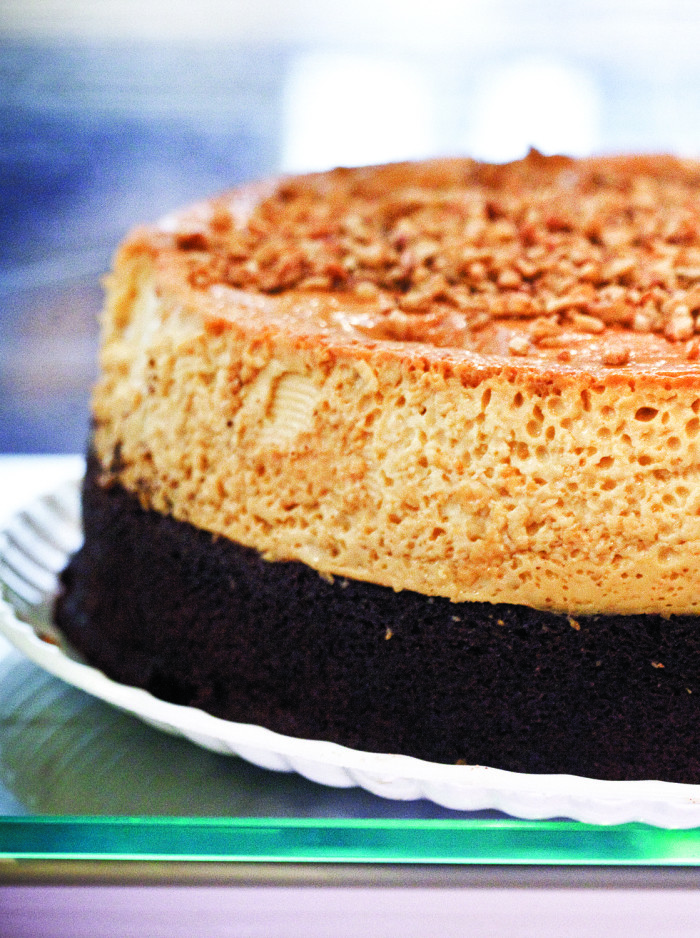 This chocolate flan recipe is perfect for a Cinco de Mayo party and is the creation of Fany Gerson, who was born in Mexico City and graduated from the Culinary Institute of America. She has worked in kitchens worldwide, including Michelin three-star Akelare in Spain, Eleven Madison Park, and Rosa Mexicano in New York. Gerson calls this dessert Flan Impossible, because a seemingly magical thing happens when you place it in the oven. When you assemble it the flan is on the top and when you remove it from the oven the chocolate cake is on top.
Once unmolded you have two distinct but equally delicious layers, one a creamy rich flan and the other a rich dark chocolate cake.
Ingredients
Cake
3/4

cup

sugar

3/4

cup

all-purpose flour

1/3

cup

unsweetened cocoa powder, preferably Dutch processed

1/2

teaspoon

baking soda

pinch of

salt

1/2

cup

buttermilk

3

tablespoons

vegetable oil

1

egg, room temperature

1/2

teaspoon

vanilla extract
Flan
1

(12- ounce can)

evaporated milk

1

(14- ounce can)

condensed milk

4

eggs

1/2

teaspoon

pure vanilla extract

1/2

teaspoon

salt

3/4

cup

pecans, or walnuts, toasted and chopped for garnish

1

cup

cajeta, homemade or store bought
Directions
Preheat the oven to 375°F. Lightly grease the bottom and sides of an 8-inch cake pan.
Pour the cajeta over the bottom and sides of the cake pan using a brush or the back of a spoon (you can heat the cajeta very slightly in the microwave so that it is easier to spread).
*Cajeta is a mexican spread made from sweetened caramelized milk.
To make the cake:
Combine the sugar, flour, cocoa powder, baking soda, baking powder, and salt in a large bowl and whisk until well blended.
In a separate bowl, whisk together the buttermilk, vegetable oil, egg, and vanilla.
Add to the flour mixture, whisking until thoroughly combined. Pour the cake batter into the pan and set aside.
To make the flan:
Combine the evaporated milk, condensed milk, eggs, vanilla, and salt in a blender and blend until there are no visible lumps. Pour gently over the cake batter.
Cover loosely with foil, place in a large baking dish, and fill the baking dish with hot water so that it comes halfway up the sides. Bake until a toothpick inserted into the center comes out clean, about 50 minutes.
Remove the cake pan from the baking dish and allow to cool for at least 4 hours or refrigerate overnight. To unmold, lightly pass a warm knife around the edge, place a plate or dish on top, and carefully but rapidly flip over.
Garnish with the toasted nuts. Serve cold or at room temperature.