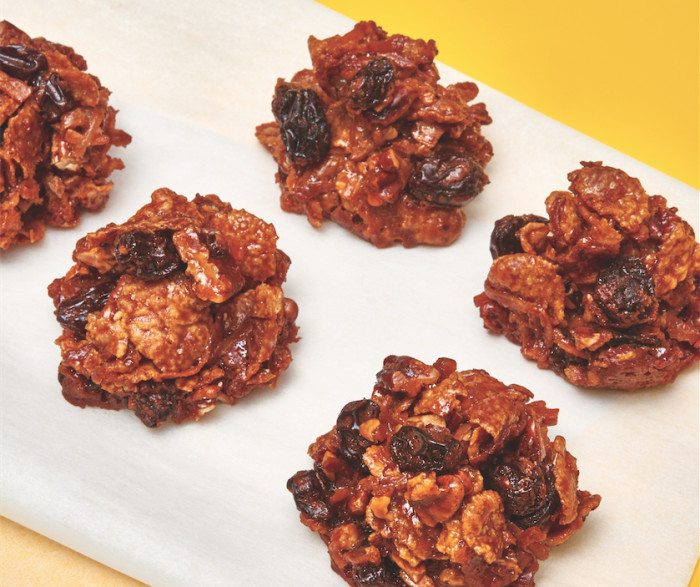 If you've ever needed one cookie book, Dorie's Cookies is the be-all, end-all. Dubbed a "culinary guru" by The New York Times, Dorie Greenspan rounds up the most — dare we say it — a-Dorie-bal collection of brownies, meringues, pinwheels, gingersnaps, thumbprints and more. These chocolate-cornflake haystacks are sure to be your new favorite.
If, like me, you find yourself unable to resist the allure of the no-bake cornflake treats sometimes known in America as haystacks and called desert roses in France, then brace yourself for this baked version. Like the old-fashioned haystacks, these don't have many ingredients — it's the baking and the addition of eggs and agave nectar that make them different — but they end up being more satisfying than you'd expect. My go-to combination for these is sweetened coconut, chopped nuts, plumped raisins and high-quality milk chocolate, but this recipe is a DIYer's dream. You can change the nuts, the dried fruit and even the chocolate. Actually, you can even swap the namesake cornflakes for another kind of flaky cereal. What you don't want to leave out is the salt — it's the perker-upper here.
Storing: You can keep the cookies for about 3 days in a covered container, but they'll soften. I prefer to put them on a plate and leave them out. That's a good option only if the air is dry, though, not when it's humid.
Ingredients
2

large eggs

1/2

cup

agave nectar

3/4

teaspoon

fine sea salt

1

cup

shredded sweetened coconut

1

cup

pecans or other nuts, coarsely chopped

1

cup

plump, moist raisins

3

cups

cornflakes

6

ounces

best-quality milk chocolate, melted
Directions
For the haystacks
Position the racks to divide the oven into thirds and preheat it to 300°F. Line two baking sheets with parchment paper or silicone baking mats.

Working in a large bowl, whisk together the eggs, agave and salt until smooth, about 1 minute. Switch to a flexible spatula and add the remaining ingredients one at a time, mixing well after each goes in. (Adding the cornflakes close to the end increases their chances of surviving the mixing mostly intact.)

You can scoop the haystacks with a medium cookie scoop or with a tablespoon. Either way, as you portion out the mixture, try to press it a little so that it kind of, sort of, stays together, and then leave an inch or so between the raggedy mounds.

Bake the cookies for 30 to 35 minutes, rotating the pans top to bottom and front to back after 15 minutes, or until they're deeply golden brown and shiny. Transfer the baking sheets to racks and let the cookies cool completely on the sheets; they'll crisp as they cool but remain slightly chewy in the center.