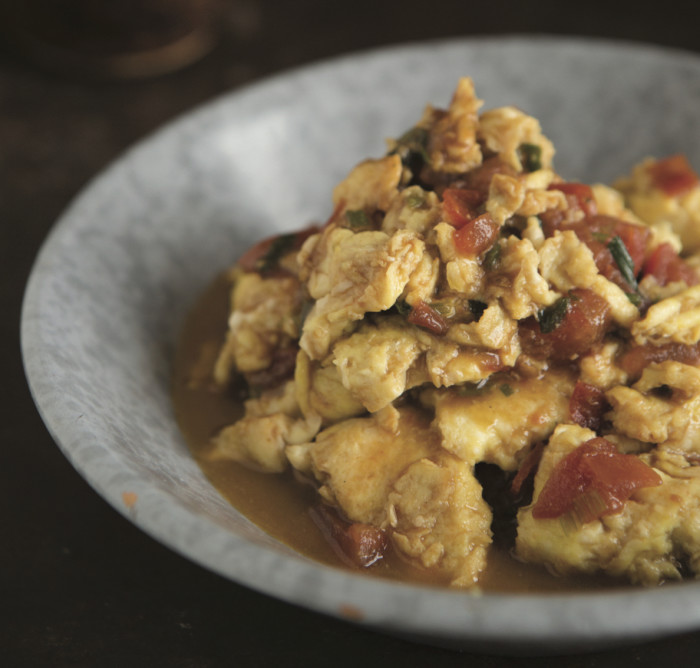 Dig into Chinese comfort food with Hsiao-Ching Chou's new collection of easy-to-make classics. If you've never had Chinese tomato eggs stir-fried with soy sauce and served with rice, you're in for a treat. 
The brilliance of eggs is undeniable. Out of all the ways to prepare eggs, scrambled is the least exciting to me — probably because they're often overcooked. The exception is tomato eggs. While I was growing up, I remember telling my friends about tomato eggs and getting blank looks in return. It didn't occur to me that having eggs stir-fried with tomatoes and soy sauce wasn't common. Summer tomatoes, of course, make this dish a simple stunner. Even with muted winter tomatoes, this dish is still a winner.
Ingredients
2

tablespoons plus 1 teaspoon

vegetable oil, divided

1

stalk

green onion, finely chopped

6

large eggs, beaten

1

cup

diced fresh tomatoes, the juiciest variety you can find

2

tablespoons

soy sauce

1 to 2

tablespoons

water

Chili sauce (optional)

1/4

teaspoon

sesame oil
Directions
For the eggs
Preheat the wok over medium heat until wisps of smoke rise from the surface. Add 2 tablespoons of the vegetable oil and the green onions, and stir-fry for 10 seconds. Add the eggs and cook, gently scrambling the eggs, for about 1 minute, or until the curds have set but aren't hard. Remove the pan from the heat, transfer the eggs to a medium bowl, and set aside. Rinse out the wok and dry with a towel.

Return the wok to the stove over high heat. Add the remaining 1 teaspoon vegetable oil and heat until it starts to shimmer. Add the diced tomatoes, and stir-fry until they are soft and have released their juices, about 1 minute. Add the soy sauce and stir-fry for 1 minute.

Add the eggs and stir to combine. If it looks too dry, add the water. Add chili sauce to taste. Gently stir-fry for about 1 minute, then drizzle with the sesame oil. Serve with steamed rice or Simple Congee.