Chinese Roast Chicken Buns Recipe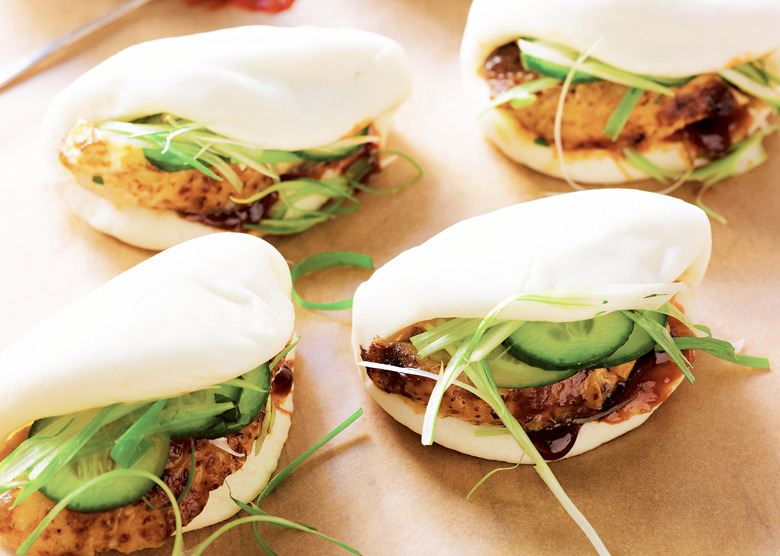 Photo: Ellen Silverman
Tender meat—often pork, though here, it's simple roasted chicken—sweet, garlicky hoisin sauce, cooling cucumber, and scallion all tucked into soft pillowy steamed dough with a squirt of our beloved sriracha; no wonder everyone seems crazy for Chinese buns these days. Packaged buns can be purchased at Asian markets if you don't have time to make and steam your own dough. There's no better reason to stick a bird in the oven, check out our easy roasted chicken recipe and get cooking.
Chinese Roast Chicken Buns Recipe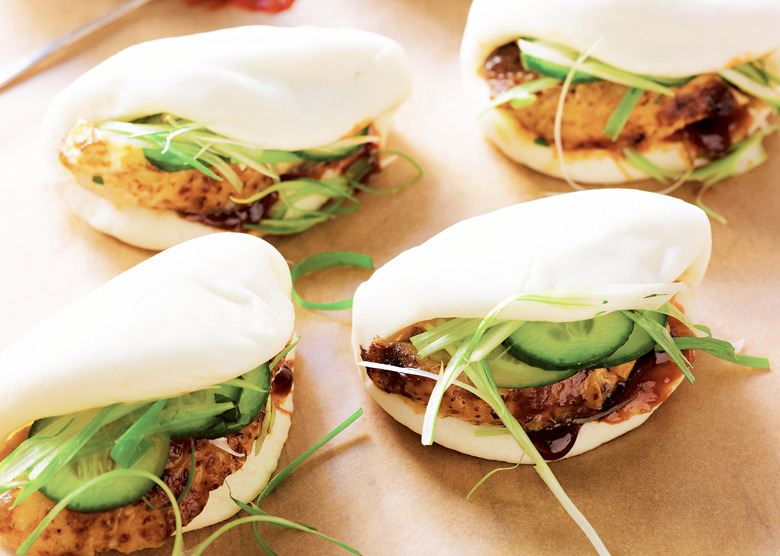 Ingredients
1 cup unbleached all-purpose flour
1/2 cup cake flour
1 1/2 teaspoons active dry yeast
1 1/2 teaspoons sugar
1/8 teaspoon fine sea salt
1/2 cup warm water
1 teaspoon vegetable oil
1 pound sliced roasted chicken
hoisin sauce
Sriracha sauce
1 medium cucumber
5-6 scallions
a pasta pot with a deep perforated colander-steamer insert or a bamboo or metal steamer
Directions
In a large bowl, whisk together the flour, cake flour, yeast, sugar, and salt; add the water and oil. Using your hands, mix and then knead in the bowl until dough forms (add up to 1/4 cup more water by the tablespoonful, if necessary). 
Turn out the dough onto a lightly floured work surface and knead until smooth and elastic, about 5 minutes. Put the dough into an oiled bowl, turning the dough to coat it with oil, then cover with a clean dishtowel and let rise at a draft-free warm room temperature, until doubled in size, 45 minutes to 1 hour.
Meanwhile, cut out a dozen 3-inch squares of parchment paper. Punch down the dough and form it into a 3/4-inch-thick rope. Cut into 12 equal pieces. Roll each piece into a ball. Place balls on a baking sheet, cover loosely with plastic wrap, and let rise at warm room temperature for 30 minutes.
Pat each ball into a long oval, about 1/8 inch thick. Brush each oval with oil, then fold in half crosswise, place on a parchment square, and brush with oil. Place on a baking sheet and repeat with the remaining dough pieces. Loosely cover the buns with plastic wrap and let rise at a warm room temperature until nearly doubled in size, about 30 minutes.
Bring a few inches of water to a simmer in a pot so that the bottom of a steamer insert sits above the water. Arrange the buns, in batches if necessary, about 1/2 inch apart, on the insert and steam over medium heat, covered, until the dough is slightly puffed and cooked through, about 10 minutes.
Layer each bun with chicken, hoisin, sriracha, cucumber and scallions.