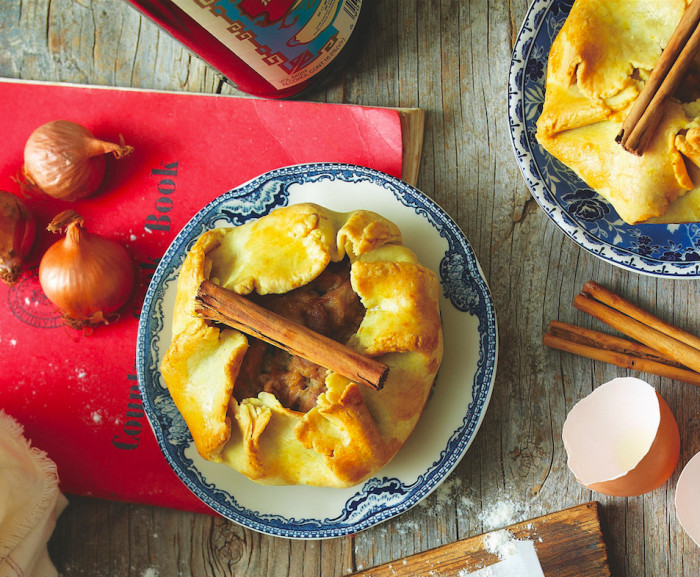 When it comes to the basics, look no further than a cookbook by renowned Test Kitchen master Pamela Clark. Her simple, triple-tested recipes are delicious and genuinely foolproof. Her newest book, Pocket Pies, celebrates empanadas, pasties, turnovers and more from the world of sweet and savory handheld pastry. First up: rather than choose between Chinese takeout and homemade savory pie for dinner, why not find a happy compromise?
Ingredients
4

-pound

whole duck

1

tablespoon

vegetable oil

4

shallots, finely chopped

2

tablespoons

plain (all purpose) flour

1/2

cup

chicken stock

1/4

cup

Chinese cooking wine

2

tablespoons

light soy sauce

2

tablespoons

orange juice

2

teaspoons

light brown sugar

4

cinnamon sticks

1

egg, beaten lightly
Five Spice Pastry
2

cups

plain (all purpose) flour

2

teaspoons

orange rind, finely grated

1/2

teaspoon

five-spice powder

8

tablespoons (1 stick)

butter, chopped coarsely

1

egg

1

tablespoon

water
Directions
Rinse duck under cold water.
Place duck in large saucepan; cover with cold water.
Bring to a boil, uncovered.
Reduce heat; simmer covered for 30 minutes. Cool in water in pan.
Remove meat from duck; discard skin and bones.
Shred meat.
Meanwhile, make five-spice pastry: process flour, rind and five-spice until combined.
Add butter; process until crumbly.
Add egg and water; process until ingredients just come together.
Knead dough on floured surface until smooth.
Enclose in plastic wrap; refrigerate 30 minutes.
To Assemble:
Heat oil in large frying pan; cook shallot, stirring, until soft.
Add flour; cook while stirring for 1 minute.
Gradually stir in combined stock, wine, sauce, juice and sugar; bring to a boil.
Simmer, uncovered for 3 minutes.
Add duck; season to taste. Cool.
Preheat oven to 400°F.
Grease four (1-cup) round pie pans.
Roll pastry between sheets of parchment paper until large enough to line pans with 2 inches of pastry overhanging.
Lift pastry into pans, press into base and side.
Divide duck mixture among pies.
Fold excess pastry over filling to enclose.
Position a cinnamon stick on each pie; brush with egg.
Bake about 25 minutes.
Stand pies in pans for 5 minutes before serving.
Find more meat pies on Food Republic: