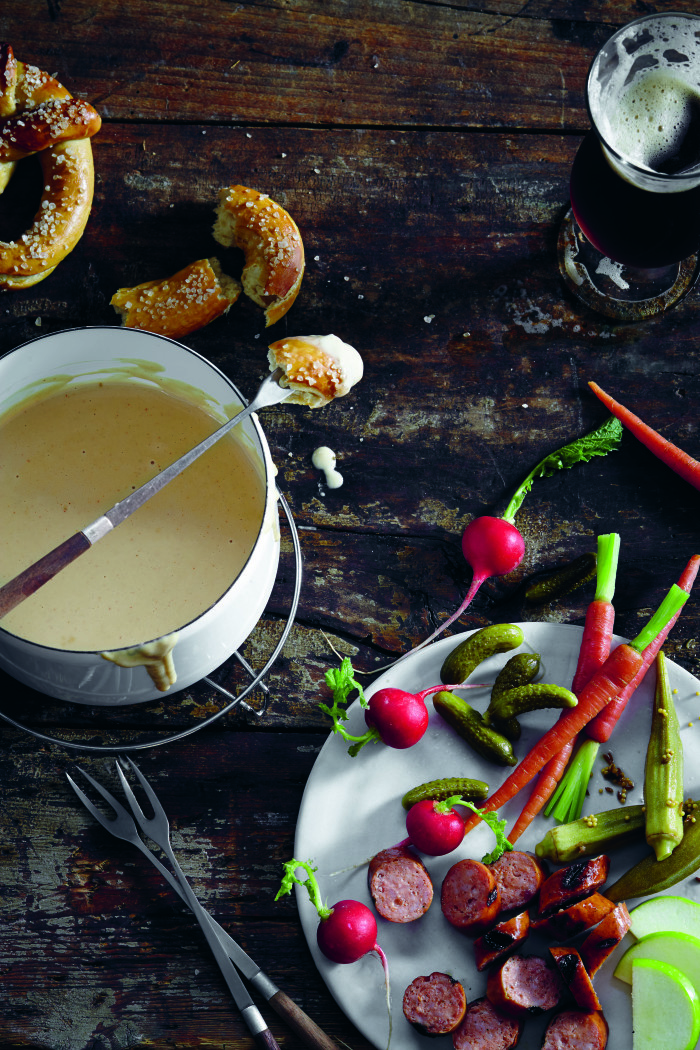 The only thing better than a great beer is eating the perfect food for that particular brew. Enter Beer Bites, a cookbook companion for your craft beer cravings by the dream team of cookbook author Andrea Slonecker and writer/brewer Christian DeBenedetti. Beyond your typical pub grub is enlightened fare for people who love good beer, and Belgian beer–infused cheese fondue definitely qualifies. 
Broadly speaking, Abbey ales are made under the watch of monasteries, but these days it can be hard to discern what beer comes from a true Trappist abbey, brewed under the direct supervision of, and sometimes by, the monks (look for the words "authentic Trappist product"), and what is merely produced in association with a given abbey (far more common). And then there are beers with no connection to holy places whatsoever. What you need to know is that abbey beers tend to be malt-forward, spicy-tasting beers, generally called dubbel, tripel or quadrupel, which are references to old brewing measurements of grain (and thus correspond to strength).
Fondue is, of course, one of the most enjoyable party dishes imaginable. It can make an ordinary evening unforgettable. Traditionally made with white wine and Gruyère or other Swiss alpine cheeses, this version is made with an abbey-style beer and an abbey-style cheese, Chimay à la Bière, with a beer-washed rind. Instead of the usual winey flavors, beer fondue abounds in ripe yet earthy, mellow hop bitterness and the kick of a stronger Belgian-style ale. Watch the beer-blessed celebrants dive in.
Our recommended brews: Chimay Grande Réserve ("Blue"); Achel 8 Blond; Dubuisson Bush du Nuits (Scaldis Prestige); Allagash Interlude; Abbaye Des Rocs Grand Cru
Ingredients
1

12-ounce bottle

Belgian abbey ale, such as Chimay Red or Ommegang Abbey

1

pound

à la bière or other washed-rind cheese, such as Taleggio or Robiola, rinds trimmed and discarded, finely chopped

2

tablespoons

cornstarch

2

teaspoons

Dijon mustard

dash of

worcestershire sauce

pinch of

paprika

fine sea salt

Soft pretzels, grilled sausages, sliced tart apples, and/or pickled vegetables for serving
Directions
For the fondue
Bring the ale to a boil over medium heat in a fondue pot or a heavy-bottomed 2-qt/2-L saucepan. Turn the heat to medium-low.

Combine the cheese and cornstarch in a medium bowl and toss to coat. Add the cheese to the ale one large handful at a time, stirring in a figure-8 pattern until the cheese is completely melted before each addition. Have patience; this could take a total of 20 minutes, and it is important that the cheese melts slowly and completely.

When all of the cheese is melted and the fondue is thick, stir in the mustard, Worcestershire sauce, and paprika. Season with salt.

Serve piping hot, from the fondue pot placed over a low flame or the saucepan set on a trivet. (If you're serving it from a saucepan, you'll need to return it to a low flame to remelt the cheese once it begins to solidify. Do this stirring gently, again in a figure-8 pattern.) Offer your guests forks or metal skewers for dipping the pretzels, sausages, apples, or vegetables.