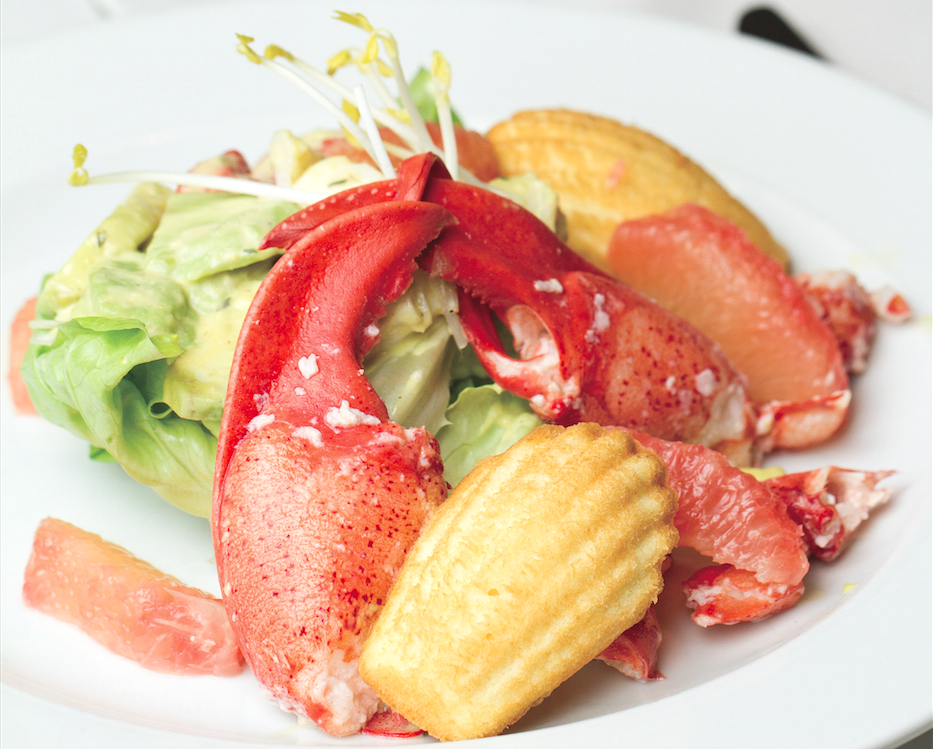 You shouldn't hit Baltimore's fast-growing fine dining scene without first consulting the Baltimore Chef's Table, a smart guide to the restaurant dishes you need to experience, written by two of Baltimore's most dedicated food enthusiasts. This sweet and savory lobster salad arrives from Executive Chef Tom Devine at Linwood's in Owing Mills, Maryland.
Ingredients
Herbed Vinaigrette
4

tablespoons

mint

4

tablespoons

cilantro

4

tablespoons

basil

4

tablespoons

dill

2

eggs

2

tablespoons

Parmigiano Reggiano cheese, grated

1/4

cup

lemon juice

2

cups

extra virgin olive oil
Lemon Thyme Madeleines
6

tablespoons

unsalted butter

2/3

cup

powdered sugar

1/2

cup

flour

1/4

cup

ground almonds

1/2

cup

egg whites

2

tablespoons

thyme, chopped
Lobster And Salad
2

(1 1/2 pound)

lobsters, cooked and cooled

1

head

hydroponic bibb lettuce

12

slices

avocado

16

segments

red grapefruit

herbed vinaigrette

8

lemon thyme madeleines
Directions
For the herbed vinaigrette:
Blanch all the herbs in boiling salted water for 5 seconds, shock in ice cold water and chop.
Place the eggs, cheese and lemon juice in a blender on medium speed. Slowly add the oil in a steady stream to emulsify the vinaigrette.
Strain through a fine mesh strainer. Chill.
For the lemon thyme madeleines:
Preheat oven to 350°F.
In a small saucepan, melt the butter over medium heat and cook until nutty and brown but not burned. Set aside to cool.
Sift together the powdered sugar and flour, then stir in the ground almonds.
Whisk the egg whites until frothy.
Stir in the almond mixture until thoroughly combined.
Add the brown butter, thyme and lemon zest.
Spoon batter into a greased madeleine pan. Bake for 5 minutes, until golden brown. Flip out of the pan while still warm.
For the lobster and salad:
Remove the lobster meat from the shells.
Chop the tail and knuckle meat; reserve the claws.
Toss the chopped lobster meat with herbed vinaigrette to coat lightly. Season with salt.
Lay out two leaves of bibb lettuce in the center of each plate. Top with lobster salad.
Arrange avocado and grapefruit segments on the outside edge of the lettuce leaves.
Garnish with lobster claws and two warm madeleines.
Find more lobster recipes on Food Republic: