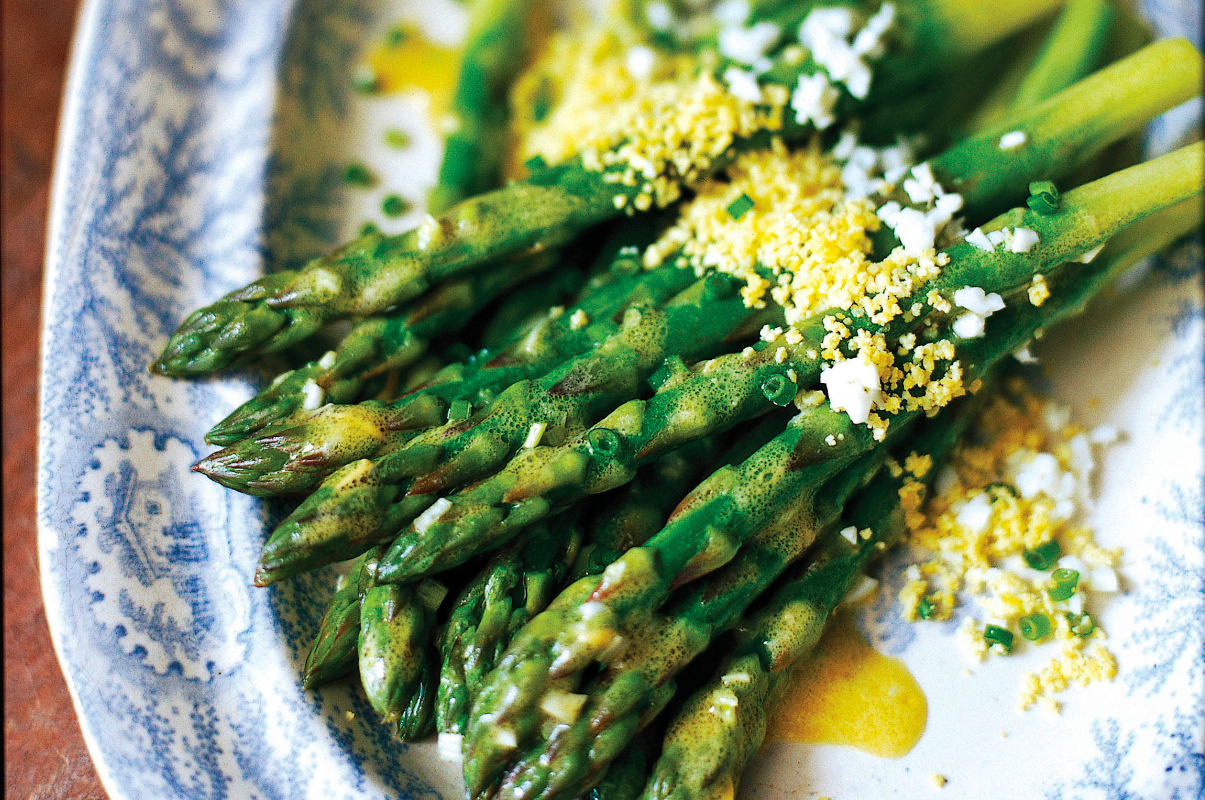 Whether you're vegetarian, eating light or observing Meatless Monday, a recipe by Peter Berley is guaranteed to satisfy. We've borrowed a few recipes from his award-winning cookbook, 
The Flexitarian Table, 
so you have every reason to expand your healthy cooking repertoire. Try this seasonal asparagus preparation as a simple salad or side.
While thick asparagus are great for roasting, I like to turn thin ones into a simple salad. I cook them very briefly, so they retain their crunch. The optional sieved hard-cooked egg, called mimosa, is a traditional spring topping for this chic dish.
Ingredients
1

pound

thin asparagus, bottom 1 inch trimmed

sea salt or kosher salt

1 1/2

tablespoons

sherry vinegar

2

teaspoons

Dijon mustard

1/8

teaspoon

honey or maple syrup

1

tablespoon

scallion white, minced

1 1/2

tablespoons

extra-virgin olive oil

freshly ground black pepper

1

hard-cooked egg (optional)

1

tablespoon

fresh chives, finely chopped
Directions
Fill a bowl with water and ice.
If you have time, peel the lower 2 inches of the asparagus stalks to make more tender and the salad greener.
In a large skillet or a saucepan wide enough to accommodate the asparagus, bring 6 cups of water to a boil, and add 2 tablespoons salt.
Add the asparagus and cook for 2 minutes, adjusting the heat if necessary.
Drain the asparagus and immediately transfer to the ice bath to chill.
Drain well and blot thoroughly dry with paper towels.
In a large bowl, whisk together the vinegar, mustard, honey and scallion.
Whisking constantly, drizzle in the oil until thoroughly combined. Season with salt and pepper.
Toss the asparagus with the vinaigrette and arrange on a platter. Chill for 30 minutes to allow the asparagus to absorb the vinaigrette.
If using the hard-cooked egg, halve it, remove the yolk, and press the yolk through a coarse sieve into a small bowl.
Finely chop the egg white and add it to the yolk, along with the chives. Season with pepper and a little salt.
Sprinkle the egg, or just the chives, over the asparagus before serving.
Find more asparagus salad recipes on Food Republic: