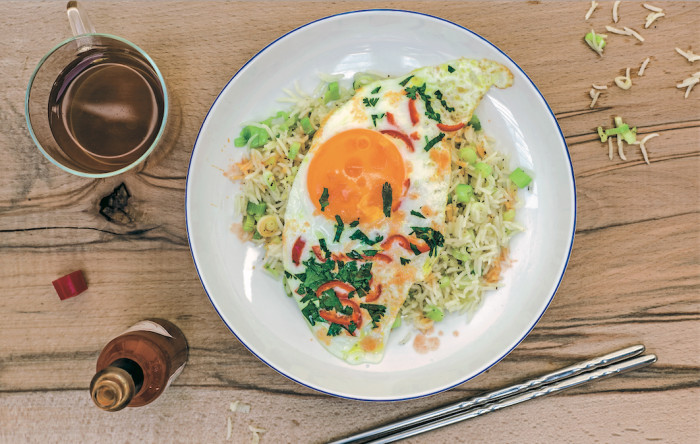 Whether you're avoiding dairy for right now or forever, there's one book that will make you forget milk-based ingredients ever even existed: British TV chef and cookbook author Lesley Waters's newest release, Deliciously Dairy-Free. For breakfast, dial down the fat and pump up the protein with these Thai-style chili eggs. 
I first had these steamed eggs with an Asian twist in Thailand, and they are a great hangover cure! It's now a family favorite, not only for breakfast but for any time of day.
Ingredients
3/4

cup

basmati rice, washed

2

tablespoons

canola oil

1

bunch of scallions, coarsely chopped

2

large free-range eggs

2

tablespoons

cilantro leaves

1

red chile, seeded and cut into slivers

Salt and pepper

Tabasco sauce or chili ketchup, to serve
Directions
For the rice
Cook the basmati rice according to the package instructions, then drain well if necessary.

Heat 1 tablespoon of the oil in a nonstick skillet, add the scallions and fry for 3-4 minutes, until golden and soft. Stir into the cooked rice, season to taste with salt and pepper and set to one side. 

Heat the remaining oil in the skillet and crack in the eggs.

Sprinkle the eggs with the cilantro leaves and chile, and season well with salt and pepper. Cover the pan with a tight-fitting lid and allow the eggs to gently steam until just cooked.

To serve, place a dome of scallion rice in the center of 2 large, warmed plates. Top each with an egg and shake over Tabasco or chili ketchup.