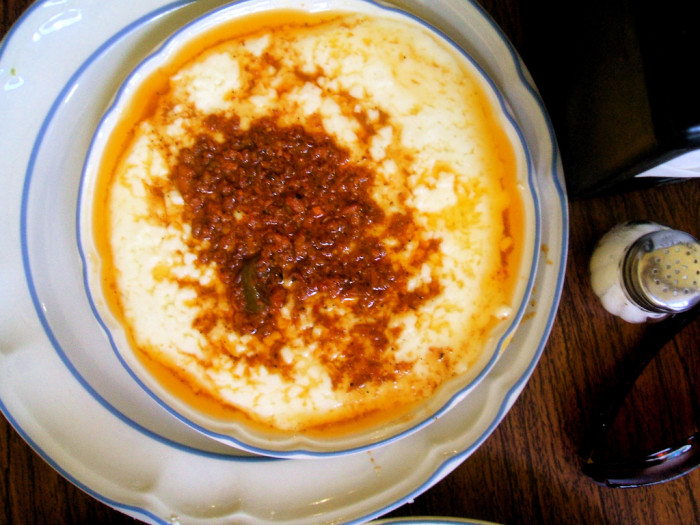 Chile con queso is the epitome of Tex-Mex cuisine, with roots on both sides of the border. It's both comforting and familiar —those from other parts of the country will know a similar dip made with Rotel and Velveeta (and there's nothing wrong with that).
The original version though, based on authentic recipes from Northern Mexico and West Texas, mainly uses fresh ingredients. For best results, keep the queso warm on the stove until you're ready to serve. Alternately, keep it on low heat and allow guests to serve themselves directly from the pot. Tortilla chips or warm flour tortillas are the perfect foil for this rich, creamy dip, but broccoli florets aren't bad either.
Ingredients
1/2

cup

yellow onion, diced

2

tablespoons

butter

2

tablespoons

flour

1

cup, plus 2 tablespoons

milk

5

cups

shredded cheese (a mix of mild cheddar and monterey jack)

1

cup

canned diced green chiles

2

plum tomatoes, seeded and diced

1/4

cup

cilantro, finely chopped

salt to taste
Directions
Melt butter in a saucepan over medium-low heat; add onion and cook until translucent, about 10 minutes.
Whisk flour into butter-onion mixture and cook until flour is fully incorporated, about 30 seconds.
Slowly pour in 1 cup milk, whisking constantly until sauce thickens, about 5 minutes.
Reduce heat to low. Add 1/3 of cheese blend to the sauce and stir until cheese is completely melted. Continue adding cheese in thirds until all has been incorporated. Stir in remaining 2 tablespoons milk. You can add more milk one tablespoon at a time if queso is too thick.
Gently stir in chilies, tomatoes and cilantro. Add salt to taste.