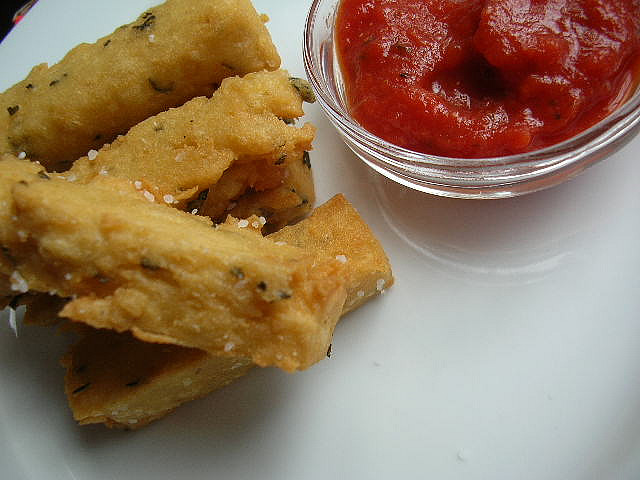 Chickpea fries, also known as Panelle or Panisse, are as good as, maybe even better than, French fries. Even though they require two steps — making the chickpea porridge, then shaping and frying — they're not much more difficult and are far more reliable. You can produce them ahead of time and flavor them in at least a dozen different ways, serving them with just about any sauce you like.
Ingredients
neutral oil, for greasing and frying

1

cup

chick pea flour, sifted

2

tablespoons

extra virgin olive oil

Parmesan cheese, finely grated for garnish
Directions
Grease a baking sheet or pizza pan with a rim and set aside. Bring 2 cups of water to a boil in a medium pot. Gradually add the chickpea flour, with a large pinch of salt and pepper, whisking constantly to prevent lumps from forming. Reduce to a gentle bubble, stir in the olive oil, and cook for just a minute.
Scoop the chickpea mixture onto the prepared pan and spread into an even layer. Let cool for a few minutes and then cover loosely with parchment or plastic. Refrigerate until chilled through, about 30 minutes (but up to a day, covered tightly, after it's completely cool).
Put 1/8 to 1/4 inch oil in a large skillet over medium heat. Meanwhile, cut the chickpea mixture into 3 × 1/2-inch fries (or into triangles or into rounds using a cookie cutter). Gently put batches of the fries into the hot oil, rotating them gently for even cooking and browning on all sides, about 3 to 4 minutes.
Drain the fries on paper towels and immediately sprinkle with salt, lots of pepper, and a good dusting of Parmesan if you like. Serve hot or at room temperature with lemon wedges.