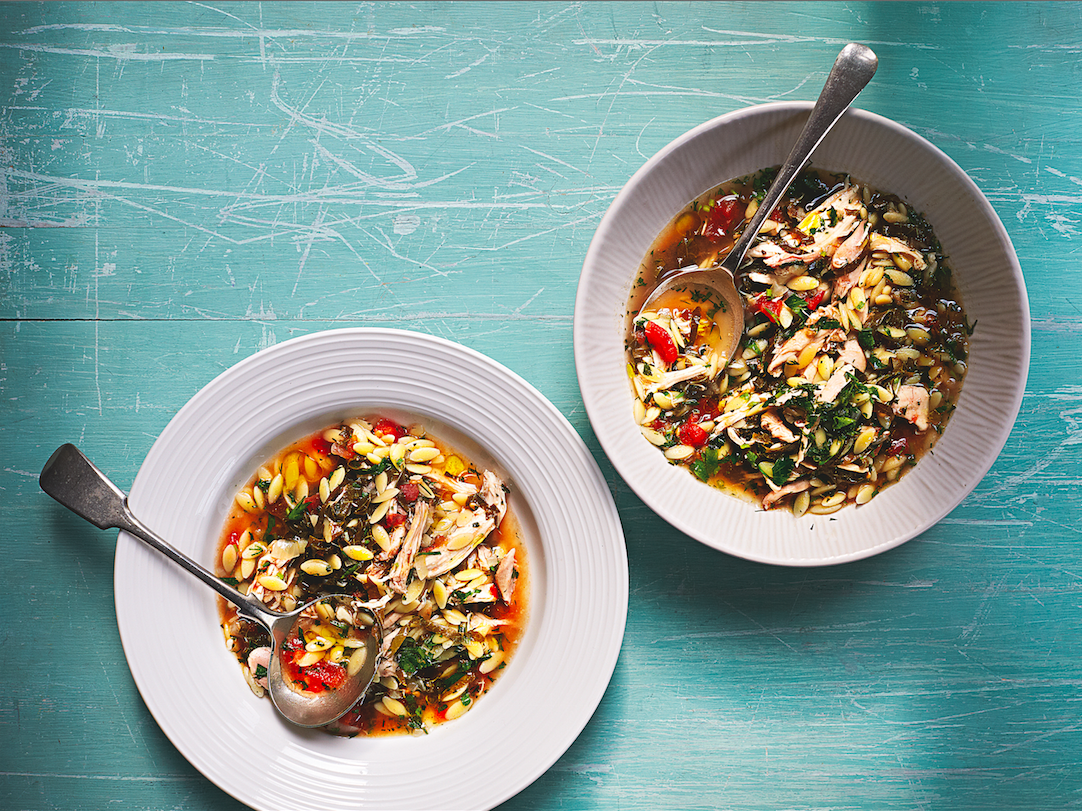 World-renowned chef and author Maria Elia's new Greek cookbook, Smashing Plates, was inspired by the cuisine at her father's tavern in Cyprus. Greek pub food. Sound like a winning formula? We combed through this page-turner and came up with a few recipes to share. 
There's nothing more comforting than a bowl of chicken soup… I'd recommend you poach a whole chicken a day in advance. Or, if you have half a roast chicken leftover, strip the meat from it and make a stock from the roasted carcass: place the stripped carcass in a pot with 1/2 an onion, 2 cloves garlic, 1 rib celery, a bay leaf, and a carrot if you have one. Cover with cold water and place over low heat for 1 hour. Turn off heat and let cool before straining. Discard the carcass and aromatics, and your stock is ready!
I adore the flavor and smell of stuffed grape leaves. They bring back childhood memories of spending Sundays at my Aunty Stella's, and to this day I've never eaten a dolmades (stuffed grape leaves) as good as hers. While writing this recipe I got to thinking that some soaked raisins and shaved Kefalotyri would be good to serve with this soup. I also tried it topped with a little crumbled feta, which was great. Next time I make it I'm going to add some peeled fava beans. Basically, go with whatever you think sounds good!
Ingredients
2

tablespoons

olive oil

1

onion, finely diced

2

cloves

garlic, finely chopped

a pinch

ground allspice

1

teaspoon

ground cinnamon

1

quart

chicken stock

3/4

cup

orzo

4

large

vine-ripened tomatoes, peeled and diced

8

grape leaves (fresh or pickled), trimmed of stem and shredded (see recipe)

1/2

cup

chicken meat

1/4

cup

fresh mint, finely chopped

1/4

cup

fresh dill, finely chopped

1/4

cup

fresh flat-leaf parsley, finely chopped

2

tablespoons

lemon juice, freshly squeezed

sea salt and freshly ground black pepper

extra virgin olive oil, to serve
Directions
If using fresh grape leaves, blanch them in boiling salted water for about 2 minutes until they're no longer bright green; refresh under cold running water. If using pickled or jarred leaves, place in a colander and rinse well.
Heat the oil in a medium saucepan over medium heat, add the onion and cook for 5–8 minutes until softened and transparent.
Add the garlic, allspice and cinnamon and cook for another minute, then add the chicken stock and bring almost to a boil.
Add the orzo, tomatoes, grape leaves and chicken, then reduce the heat so the soup is simmering.
Cook for approximately 8 minutes, or until the orzo is tender.
Add the fresh herbs and lemon juice and season with salt and pepper.
Serve drizzled with extra-virgin olive oil.
Find more global chicken soup recipes on Food Republic: