Chicken Saltimbocca Recipe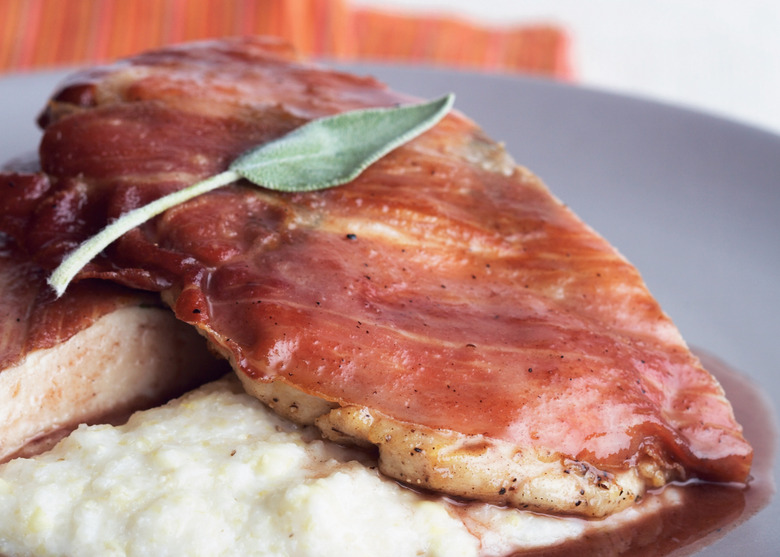 Photo: Ellen Silverman © 2008
This dish is inspired by a traditional Roman dish made with veal and proscuitto. Translated literally from Italian, saltimbocca means "jump mouth" or "hop in the mouth," implying that the dish is so good the flavors come to you. It's best to pound the chicken breasts, for this or any recipe that calls for cutlets (or as the French call them, paillards). Chicken sold as cutlets in the grocery store aren't actually pounded, but are horizontally sliced to resemble a cutlet. The meat contracts irregularly in the hot pan, making it tough.
The idea is to create an evenly thin piece of meat, not to pound it into oblivion. This technique works equally well with turkey, pork or veal.
Chicken Saltimbocca Recipe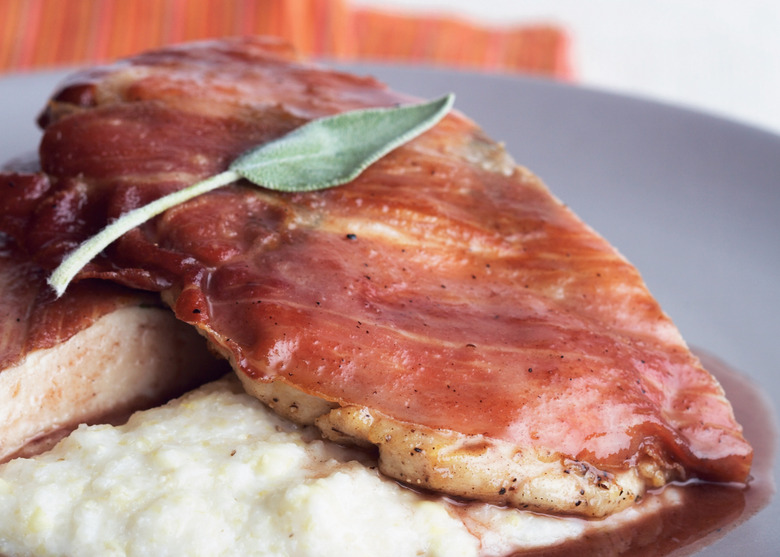 Ingredients
4 to 6 (8-ounce) boneless; skinless chicken breasts
16 to 24 fresh sage leaves
8 to 12 paper-thin slices country ham; prosciutto; or Serrano ham (about 6 to 8 ounces total)
1/4 cup all-purpose flour
freshly ground black pepper
2 tablespoons canola oil
1/4 cup dry white wine
1/4 cup Marsala or port
3/4 cup chicken stock or low-fat; reduced-sodium chicken broth
coarse salt
Directions
Place a chicken breast between 2 sheets of plastic wrap and, using a kitchen or meat mallet, pound to slightly over 1/4 inch thick. Repeat with the remaining chicken. Place 4 fresh sage leaves on each cutlet; top with 1 or 2 slices of ham and press lightly to adhere. Place on a baking sheet and refrigerate to set, at least 10 minutes. 
Place the flour in a shallow dish and season with pepper (no salt is necessary because of the salty ham). To cook the cutlets, heat the oil in a large, heavy-bottomed skillet over medium-high heat. Working with 2 pieces at a time, dredge both sides of the chicken in flour, then shake off the excess flour — the chicken should be lightly dusted.
Without crowding, add 2 pieces of chicken to the skillet, ham side down first, and saute for 2 to 3 minutes per side. Transfer to a warm platter and cover loosely with aluminum foil. Repeat with the remaining chicken, adding more oil if necessary. 
Pour off any excess oil from the skillet. Return the skillet to the heat. Add the wine and Marsala and bring to a boil over medium-high heat, scraping up any browned bits. Add the stock and increase the heat to high. Cook until the sauce is reduced and slightly thickened, 3 to 5 minutes.
Taste and adjust for seasoning with salt and pepper. Spoon the sauce over the chicken, garnish with fresh sage and serve.