Chicken Ropa Empanadas Recipe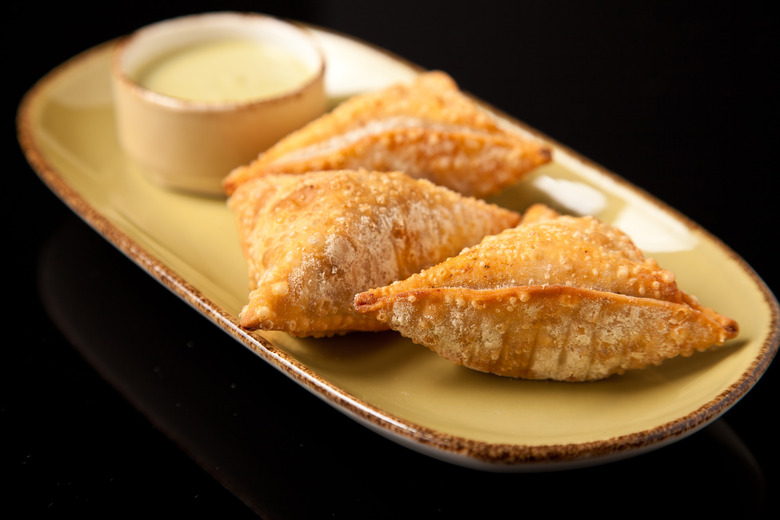 Miami's Wynwood Kitchen & Bar (WKB), located in the burgeoning Wynwood Arts District, features A-list street art and increasingly impressive food. Shepard Fairey, Os Gemeos and Kenny Scharf are among those who've created original pieces around the indoor/outdoor space, and chef Miguel Aguilar has brought a twist to Cuban-inspired favorites that also might be called artful.
A native of Venezuela, Aguilar knows his way around an empanada. For this take on the classic Latin hot pocket, he stuffs 'em with the shredded spiced chicken known as ropa vieja — Spanish for "old clothes." (The recipe for this chicken ropa and a chipotle ketchup is below, and it's so good, you'll be tempted to sneak bites, but remember, this is filling for the empanadas!) Chef suggests that you use the chicken as a main with a side of beans and rice, or stuff it into what Food Republic's lunch expert Jess Kapadia calls "The Best Sandwich You've Never Had," arepas.
But look what happens when you stuff this chicken ropa into pastry dough and serve up empanadas. Have you ever seen an unhappy man with a delicious empanada in his hand? No. Serve these up at your next party or gathering and bask in the praise.
Chicken Ropa Empanadas Recipe
Servings
10
6-inch empanadas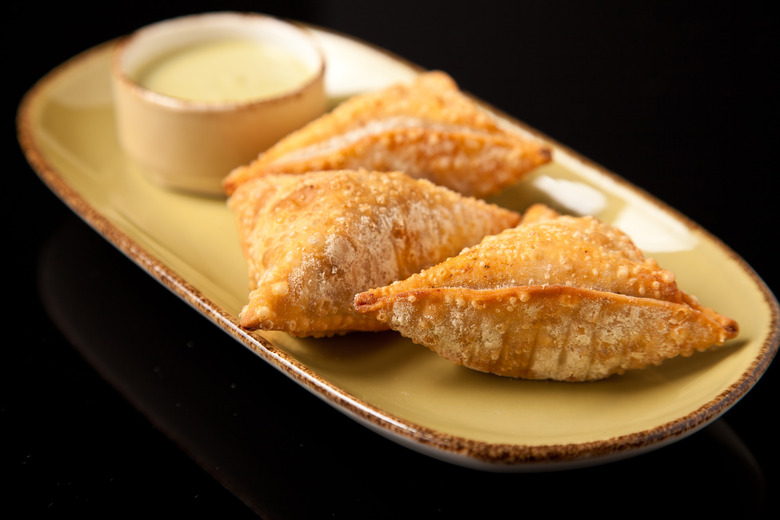 Ingredients
2 1/2 pounds chicken thighs
1 pound Spanish onion
1/2 pound green pepper
1/2 pound red pepper
1/4 bunch cilantro
1/4 bunch parsley
1/2 quart Chipotle Ketchup (see recipe below)
1 quart water
3/4 ounce chicken bouillon
1/4 cup Hungarian Paprika
3 cups flour + more for kneading
1 teaspoon salt
1/2 cup cold water
1 egg
1 egg white
1 teaspoon vinegar
3 tablespoons vegetable shortening
1 can (7 ounces) chipotle in adobo sauce
28 1/2 ounces ketchup
1 ounce garlic
6 ounces Spanish onion
1 cup sherry wine
2 whole bay leaves
Directions
In a large skillet sear the chicken until golden brown; then remove the thighs.
Discard the oil from pan and deglaze with stock (base & water.)
Add half the chipotle ketchup and place the chicken thighs back into the skillet.
Add the paprika and cook until tender and falling apart. This should take about 30 minutes.
Remove the thighs from the liquid and shred.
Add the remaining ketchup to the liquid and reduce by half.
In another skillet, cook the peppers and onion until soft. Add the shredded chicken, and reduction, and finish with herbs. This final step is to combine the flavors.
Place all the ingredients in a pot and bring to a simmer.
Cook till all the vegetables are soft; puree and label.
Store in the fridge.
In a bowl, beat the water, egg, egg white and vinegar together. Set aside.
In a separate bowl, mix 3 cups of flour with the salt.
Cut the shortening into the flour mix with a pastry blender or two butter knives.
Make a well in the center of the flour mix and pour the liquid ingredients from the first bowl into the center.
Mix the wet and dry ingredients with a fork until it becomes stiff.
Place the dough onto a lightly floured surface. Knead it just until all the flour is incorporated and the dough is smooth.
Wrap in plastic and refrigerate for at least an hour, but never more than 24 hours.
Cut the dough in half and sprinkle both the dough and the work surface with flour to avoid sticking.
Use a rolling pin and roll the dough out to approximately 1/8 inch thick
Cut out disks with a 6 inch diameter cookie cutter.
Place some filling, about 1 to 1.5 oz, in the center of a disk.
Beat an egg and brush the egg wash one half of the disk then fold one end over, connecting edge to edge.
After folding over, press the edges down with your fingers and then use a fork to crimp them shut.
The empanadas are now ready to cook. You may pan fry or deep fry. If you pan fry, you will need to flip them over.
Cook until golden brown.